Austria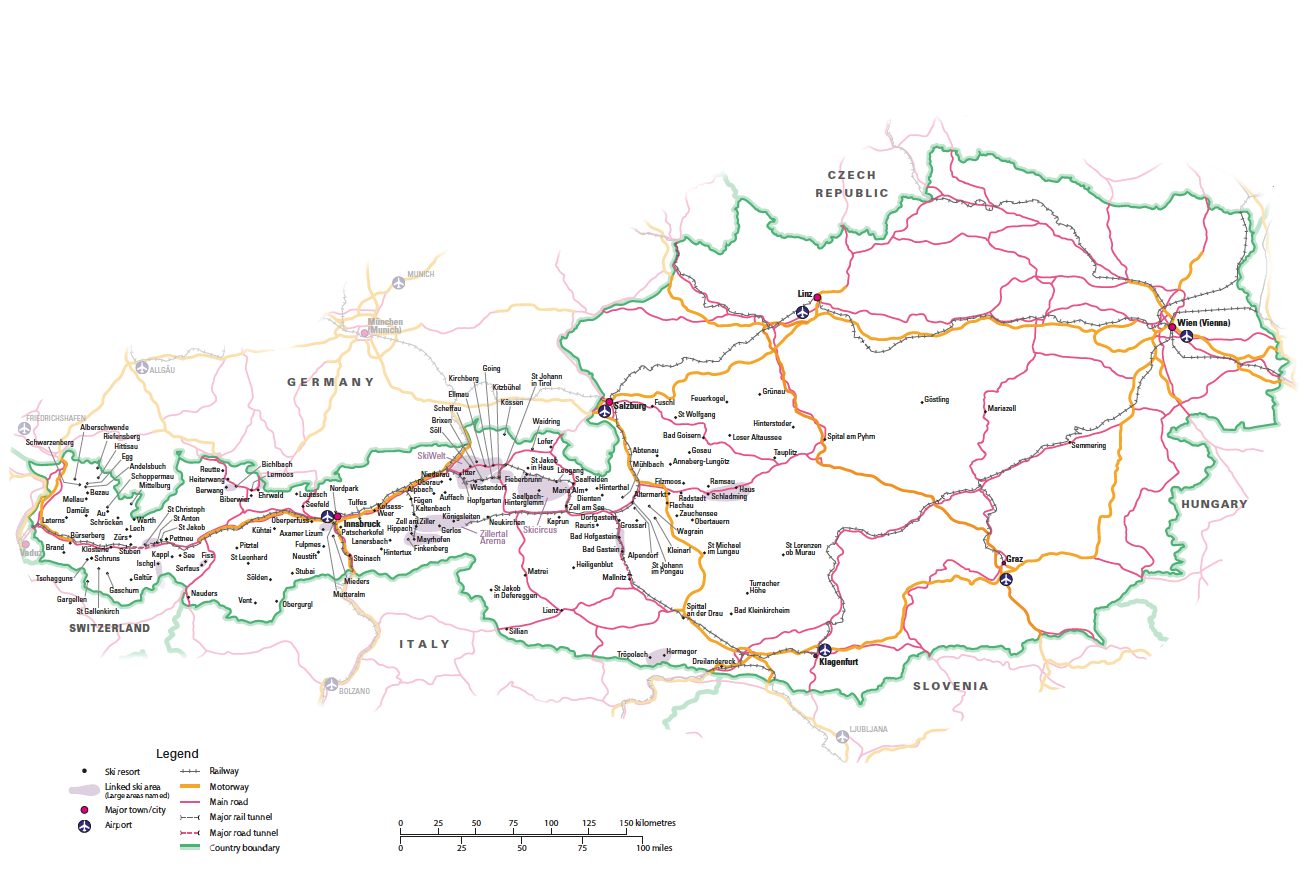 When the first snowflakes fall from the sky, covering the mountains with a blanket of white, the Austrian landscape becomes charmingly transformed.
Although mountains, snow and fresh air are not unique to Austria, Austria scores particularly highly on its atmosphere, hospitality and the quality of its infrastructure. Some of its resorts may be at lower altitudes than elsewhere in Europe but they ooze charm and personality. Snowmaking means snow cover can generally be relied on throughout the season while, in recent years, Austrian cable car companies have invested a great deal in infrastructure resulting in some of the most efficient lift systems in Europe. On top of this, Austria is also more affordable than you may think, with prices for eating and drinking consistently below many of its Alpine rivals.
The Austrian Alps also attract their fair share of summer visitors looking to hike, cycle or simply drink in the fabulous mountain views. With the majority of its resorts nestled in valleys, getting around by road is relatively easy, although winter tyres are compulsory from November to mid-April. Alternatively transfers are available from the country's airports at Innsbruck, Salzburg, Graz, Vienna, Linz and Klagenfurt while a number of good value train tickets and passes make rail travel a good alternative for some resorts. Check out our maps to see how to get to your resort.
| Resort | Altitude Range | Vertical Drop | Lifts | Kms of Downhill Piste | Cross Country | Glacier |
| --- | --- | --- | --- | --- | --- | --- |
| Annaberg-Lungottz | 780-1620m | 840m | 23 | 70km | 10km | No |
| Bad Gastein/Bad Hofgastein | 840-2300m | 1460m | 40 | 215km | 90km | No |
| Bad Kleinkircheimn | 1100-2055m | 955m | 26 | 103km | 50km | No |
| Ellmau | 620-1955m | 1335m | 90 | 280km | 196km | No |
| Heiligenblut | 1300-2900m | 1600m | 12 | 55km | 12km | No |
| Hintertux | 1500-3250m | 1750m | 21 | 60km | 18km | Yes |
| Hopfgarten | 620-1890m | 1270m | 90 | 280km | 170km | No |
| Ischgl | 1380-2870m | 1490m | 45 | 238km | 100km | No |
| Kaltenbach | 600-2200m | 1600m | 35 | 150km | 40km | No |
| Kitzbuhel | 800-2000m | 1200m | 50 | 170km | 46km | No |
| Lech | 1450-2450m | 1000m | 47 | 180km | 20km | No |
| Matrei | 980-2620m | 1640m | 15 | 110km | 5km | No |
| Mayrhofen | 630-2500m | 1870m | 55 | 140km | 20km | Yes |
| Nassfeld | 610-2000m | 1390m | 30 | 110km | 300km | No |
| Obergurgl | 1800-3080m | 1280m | 24 | 110km | 12km | No |
| Obertauern | 1630-2315m | 685m | 26 | 100km | 26km | No |
| Saalbach-Hinterglemm | 840-2095m | 1255m | 70 | 270km | 12km | No |
| St Anton am Arlberg | 1300-2811m | 1511m | 38 | 122km | 40km | No |
| Schladming | 745-1900m | 1155m | 25 | 115km | 250km | No |
| Solden | 1350-3250m | 1900m | 33 | 144km | 15km | Yes |
| Soll | 620-1955m | 1335m | 90 | 280km | 196km | No |
| Stubai | 1750-3210m | 1460m | 22 | 62km | 2km | Yes |
| Tropolach | 610-2000m | 1390m | 30 | 110km | 300km | No |
| Westendorf | 620-1890m | 1270m | 91 | 279km | 170km | No |
| Zell am See Kaprun | 760-1970m | 1210m | 26 | 77km | 50km | Yes |
| Zell am Ziller | 1370-2500m | 1130m | 51 | 143km | 39km | No |
Left to right: St Anton am Arlberg ©TVB St. Anton am Arlberg / Josef Mallaun; Snow-covered landscape around Lake Zell ©Zell am See-Kaprun Tourismus / Faistauer Photography; Night falls on Zell am See ©Zell am See-Kaprun Tourismus / Faistauer Photography; Snow shoe hike beneath Kitzsteinhorn ©Zell am See-Kaprun Tourismus / Faistauer Photography