Driving to the French Alps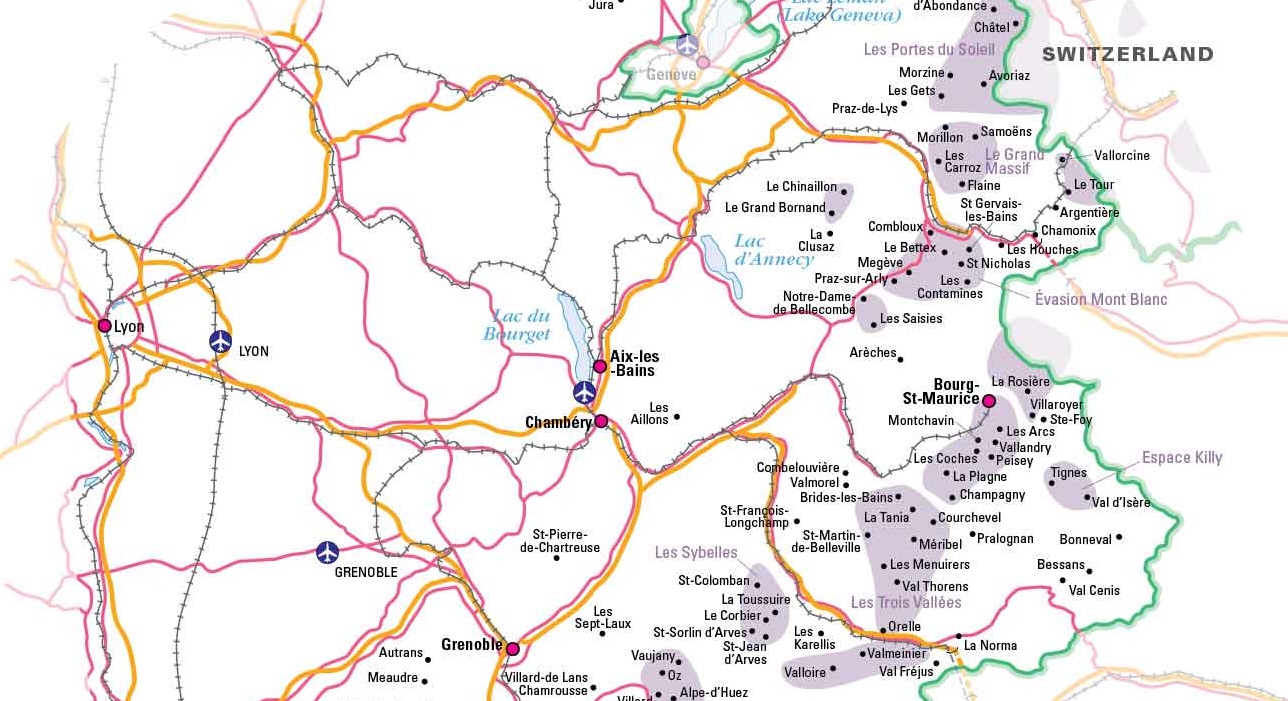 For a detailed road map please visit our map shop
The drive through France from the English Channel is a relatively short one compared with that to other alpine countries, easily achievable in a long day or with an overnight stop en-route.
The route you choose (via Geneva, Chambéry or Grenoble) will depend on where you're headed. Journeys as far as all three gateways are on fast
toll motorways
after which the main issue UK drivers are likely to face is the sheer weight of traffic headed for the Alps, especially during the school holiday periods. To ease this problem, French school holidays are staggered in three zones meaning only a maximum of two zones are on holiday at the same time. It no doubt helps, but 'bouchons' (traffic jams) are common on holiday weekend changeover days as you approach the Alps and, in some areas, traffic is regulated to avoid congestion.
Other than traffic it's unlikely you'll encounter any problems or need your winter tyres, snow socks or chains, although you may need these closer to your resort after heavy snow or if you're travelling across one of France's
mountain passes
.
If you are planning to drive to the French Alps it's wise to book your sea crossing (and any overnight accommodation) as early as you can as things can get booked up fast. If money is no object and you're travelling through Eurotunnel, book a flexible crossing to avoid delays while waiting for your crossing or being bumped to a later train.
Motorway tolls
French motorways are operated by a variety of private companies, with most featuring tolls. Entrances to them are marked 'Péage'.
Tolls can be paid in cash or with a Mastercard or Visa card (Maestro and Electron debit cards are not accepted). Some toll gates are manned; others electronic. More information about
using French tolls
.
Winter driving
Winter tyres are not mandatory in France. Snow chains however should be carried and must be fitted to vehicles using snow-covered roads as dictated by local signs or road conditions.
Equipment
You are required by law to carry the following, or risk incurring a hefty fine:
• Reflective jacket (one for each occupant). These must be kept inside the vehicle within easy reach
• Warning triangle
• Breathalysers/alcohol test. (As of January 2013 the French government announced that the introduction of an €11 fine for not carrying one has been postponed indefinitely)
Seat belts and children
Front and rear seat occupants must wear seat belts, if fitted.

Children up to the age of 10 must travel in an approved child seat or restraint suitable for their age and size. Children under the age of 10 are not allowed to travel in the front seat unless there is no rear seat in the vehicle, or the rear seat is already occupied by children under 10, or there are no seat belts in the rear.
Speed limits
Built up areas 50km/h
Outside built up areas:
Rural roads 90km/h (rain or precipitation 80km/h)
Dual carriageways 110 km/h (rain or precipitation 100 km/h)
Motorways 130 km/h (rain or precipitation 110 km/h)
Other regulations
Dipped headlights must be used in poor daytime visibility. The French Government recommends that all vehicles use dipped headlights during daytime hours.
Drivers are prohibited from wearing headsets and headphones whilst driving (eg for music devices or mobile phones). A new law banning hands free mobile phone use is also coming into force in July 2016.
Devices capable of detecting speed cameras and warning drivers of their location are not permitted. This law has recently been extended to include GPS-based systems capable of displaying fixed speed camera locations as points of interest.
In line with the European average, driving is not permitted with a blood alcohol content above 0.5g per litre. For people with less than three years driving experience, the limit has recently been lowered to 0.2g per litre.