France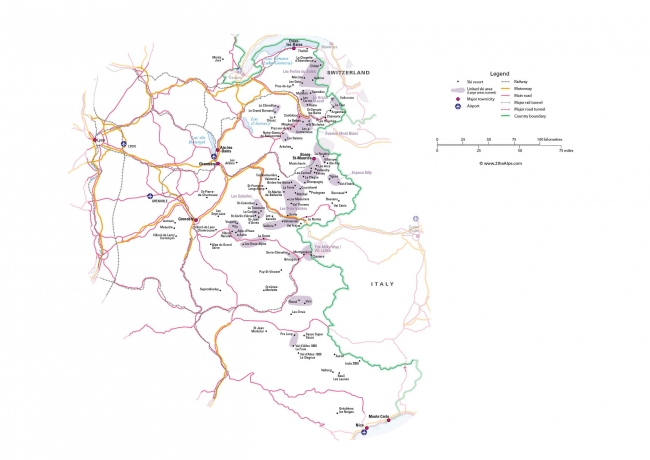 With some 6,000 ski slopes covering 25,000 hectares, and more than 300 ski resorts, France is home to the largest ski area in the world.
The majority of resorts are located in the Alps and include some of the biggest and highest names in the world, attracting winter visitors in search of superb snow, fresh mountain air and majestic scenery as well as summer visitors in need of a revitalising boost.
As with other countries the choice of where to go is vast. France is particularly known for its snow-sure high altitude purpose-built resorts. Here, while the lift systems, piste extent and signage may be exemplary, the architecture and atmosphere is often less so. Nevertheless at many of these, things are on the up with many new buildings reverting to a more traditional style. The French Alps also have their fair share of charming old mountain villages enticing visitors in search of tradition and authenticity.
Another great advantage for UK visitors is France's proximity. The Eurostar Ski Train (or Eurostar to Paris followed by the TGV) can whisk you from London St Pancras to the slopes in as little as 8-9 hours whilst the drive from the south coast of England to resort is easily achievable in a day. There's also a good choice of connections from the French airports at Chambéry, Lyon, Strasbourg, Grenoble and Nice for those wishing to take advantage of good-value flights. Our detailed maps will show you the best way to your resort.
| Resort | Altitude Range | Vertical Drop | Lifts | Kms of Downhill Piste | Cross Country | Glacier |
| --- | --- | --- | --- | --- | --- | --- |
| Alpe d'Huez | 1100-3350m | 2250m | 76 | 250km | 50km | Yes |
| Auron | 1600-2450m | 850m | 14 | 135km | 4km | No |
| Avoriaz | 900-2400m | 1500m | 200 | 650km | 45km | No |
| Bonneval | 1800-3050m | 1250m | 11 | 25km | - | No |
| Chamonix | 1050-3275m | 2225m | 45 | 115km | 43km | Yes |
| Chatel | 900-2400m | 1500m | 200 | 650km | 45km | No |
| Courchevel | 1260-3230m | 1970m | 180 | 600km | 65km | Yes |
| Flaine | 700-2480m | 1780m | 77 | 265km | 47km | No |
| Greolieres les Neiges | 1400-1800m | 400m | 11 | 30km | 30km | |
| Isola 2000 | 1800-2610m | 810m | 20 | 120km | <10km | No |
| La Clusaz | 1100-2600m | 1500m | 48 | 220km | 80km | No |
| La Plagne | 1200-3250m | 2050m | 150 | 425km | 80km | Yes |
| La Rosiere | 1180-2610m | 1430m | 38 | 160km | 17km | No |
| La Tania | 1260-3230m | 1970m | 180 | 600km | 65km | Yes |
| Les Arcs | 1200-3225m | 2025m | 150 | 425km | 15km | Yes |
| Les Carroz | 700-2480m | 1780m | 70 | 265km | 20km | No |
| Les Deux Alpes | 1300-3600m | 2300m | 44 | 67km | 25km | Yes |
| Les Gets | 900-2400m | 1500m | 200 | 650km | 45km | No |
| Les Orres | 1550-2700m | 1150m | 23 | 88km | 40km | No |
| Megeve | 850-2350m | 1500m | 81 | 325km | 40km | No |
| Meribel & Les Menuires | 1260-3230m | 1970m | 180 | 600km | 65km | Yes |
| Montgenevre | 1350-2820m | 1470m | 85 | 400km | 25km | No |
| Morzine | 900-2400m | 1500m | 200 | 650km | 45km | No |
| Orcierres Merlette | 1850-2725m | 875m | 30 | 100km | 43km | No |
| Pra Loup | 1500-2600m | 1100m | 50 | 180km | 25km | No |
| St Gervais | 1400-2350m | 1150m | 81 | 325km | 30km | No |
| St Jean Montclar | 1350-2500m | 1150m | 15 | 50km | - | No |
| St Martin de Belleville | 1260-3230m | 1970m | 180 | 600km | 65km | Yes |
| Sainte Foy | 1550-2620m | 1070m | 6 | 41km | - | No |
| Samoens | 700-2480m | 1780m | 77 | 265km | 70km | No |
| Serre Chevalier/Briançon | 1200-2800m | 1600m | 62 | 250km | 35km | No |
| Thollon les Mémises | 1000-2000m | 1000m | 19 | 50km | 6km | No |
| Tignes | 1550-3456m | 1906m | 90 | 300km | 44km | Yes |
| Val Cenis | 1300-2800m | 1500m | 28 | 125km | 27km | No |
| Val d'Isere | 1550-3456m | 1906m | 90 | 300km | 44km | Yes |
| Valloire | 1430-2600m | 1170m | 31 | 150km | 10km | No |
| Vars | 1650-2750m | 1100m | 51 | 185km | 10km | No |
Left to right: Winter landscape at La Clusaz ©OT La Clusaz / D. Machet; Family at Mont Blanc ©Seb Leon; River Doron / Meribel Tourisme ©JM_GOUEDARD; Meribel in winter / Meribel Tourisme ©JM_GOUEDARD