Italy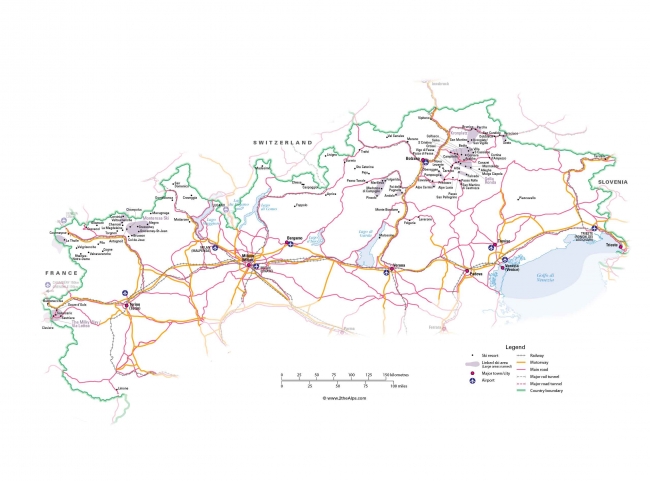 More than 40% of the Alps lie within Italy. It's a country which not only offers spectacular alpine scenery and first class snow making and lift systems, it's also an excellent choice when it comes to value for money.
The Dolomites in the east are among the most jaw-breakingly beautiful mountains of the entire Alpine range. A perfect combination of factors has made the whole area a park of natural beauty. Although it is the most northerly part of Italy, it is one of the most favoured for the frequency of its warm and sunny days. As a consequence, the fame of such resorts as Merano, Madonna di Campiglio and Cortina d'Ampezzo is renowned.
To the west, Lombardy, home to resorts including Bormio and Livigno, also attracts ski enthusiasts with 110 peaks over 3,000m high, 390 ski lifts and over 12,300 km of runs. There are also numerous cross-country pistes, marked tracks and paths for walking and biking.
West again, the Aosta Valley, is another vastly scenic region set in the highest mountains of Europe, studded with monuments and castles and home to enchanting resorts like Courmayeur, Breuil-Cervinia and La Thuile. A little further south, just a short distance from the art city of Turin, the Piedmont mountains feature a chain of resorts including Sauze d'Oulx, Bardonecchia and Sestriere, while nearby are the romantic hills of Le Langhe, where you can experience exquisite gastronomy and some of the finest wines in Europe.
Check out our
maps
to see the location of all of Italy's resorts or click on our travel pages to find out more on how to connect from the airports at Bergamo, Turin, Verona, Milan, Treviso, Trieste or Venice or from the airports in neighbouring Switzerland, Austria nd France, and how to get to the Italian Alps by rail or road.
| Resort | Altitude Range | Vertical Drop | Lifts | Kms of Downhill Piste | Cross Country | Glacier |
| --- | --- | --- | --- | --- | --- | --- |
| Bardonecchia | 1330-2800m | 1470m | 23 | 100km | 13km | No |
| Cervinia | 1525-3820m | 2295m | 54 | 360km | 3km | Yes |
| Cortina d'Ampezzo | 1225-2930m | 1705m | 38 | 120km | 70km | No |
| Courmayeur | 1210-2760m | 1550m | 17 | 36km | 30km | No |
| La Thuile | 1180-2610m | 1430m | 38 | 160km | 15km | No |
| Limone | 1030-2050m | 1020m | 15 | 80km | 10km | No |
| Livigno | 1815-2785m | 970m | 30 | 115km | 30km | No |
| Madonna di Campiglio | 850-2550m | 1700m | 60 | 150km | 40km | No |
| Passo Tonale | 1120-3015m | 1895m | 29 | 100km | 12km | Yes |
| Percha | 950-2275m | 1325m | 32 | 115km | 180km | No |
| Sauze d'Oulx | 1350-2820m | 1470m | 85 | 400km | - | No |
| Selva | 1010-3270m | 2260m | 175 | 430km | 120km | Yes |
| Sestriere | 1350-2820m | 1470m | 85 | 400km | 10km | No |
| Tarvisio | 754-1756m | 1002m | 15 | 25km | 55km | No |
Left to right: Pila, Aosta Valley ©welovetoski.com; Bardonecchia Old Town ©Ufficio del Turismo di Bardonecchia; Merano2000 ©MGM Frieder Blickle; Monte Lussari ©Agenzia Turismo Friuli Venezia Giulia