London Christmas Lights 2020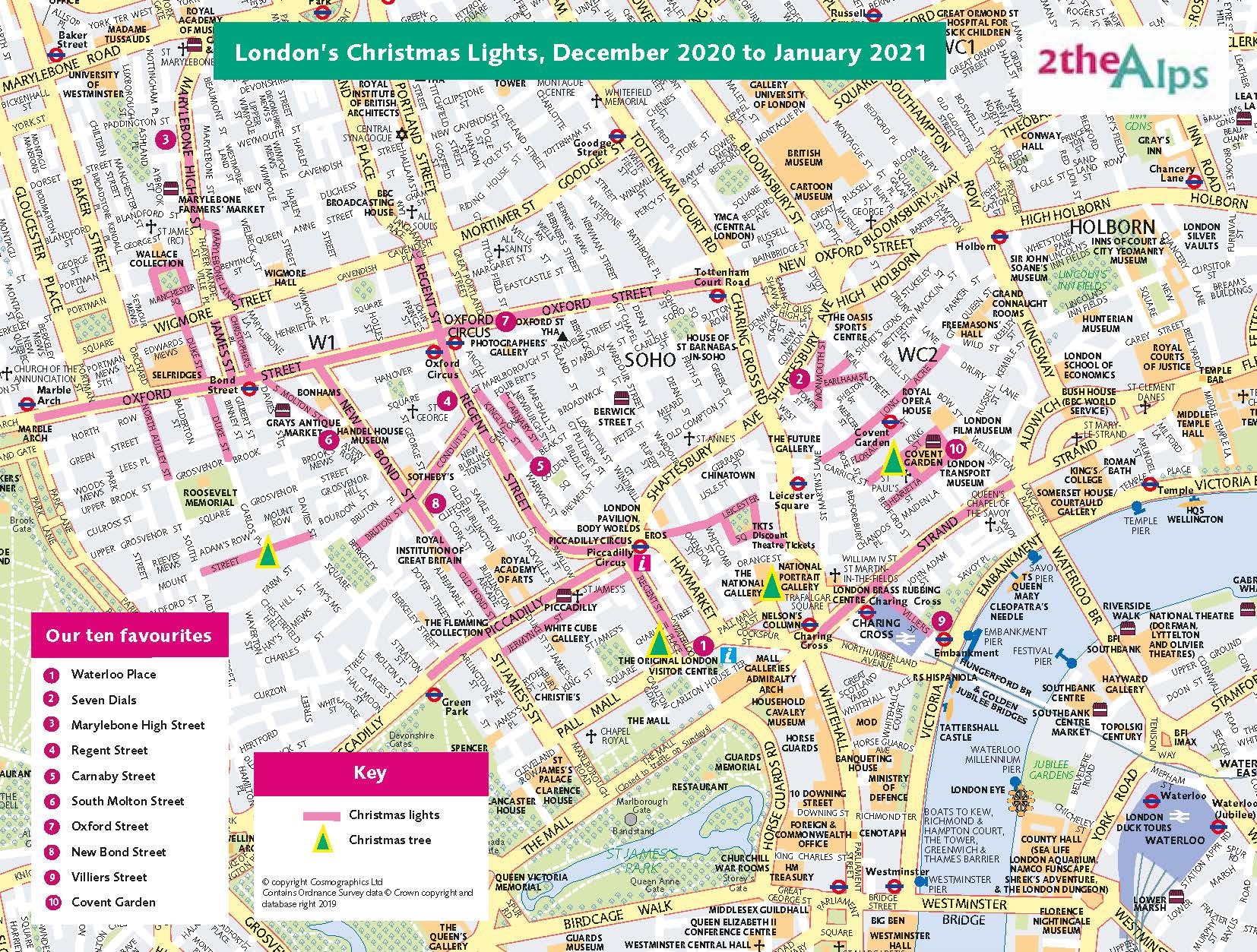 With the ski season in the Alps getting off to a shaky start this year, and Christmas ski getaways looking increasingly unlikely, 2theAlps has been searching closer to home for some festive spirit with a walk around the capital's Christmas lights.
Click on our handy map to see the locations of this year's light displays and Christmas trees and plan your own festive walk. To help you on your way, here's our top ten countdown of the best of this year's seasonal displays. Wishing you a very Merry Christmas from Neil, Alan, Dennis & the team at 2theAlps:
This Year's Top 10 Displays
10 Covent Garden
Covent Garden, London's first 'modern square' and, arguably, best-known tourist destination boasts suitably impressive displays of lights in both its covered and open-air streets and piazzas, as well as a 60-foot tree adorned with beautiful red and white twinkling lights. A traffic-free zone, the streets framing the main market area are particularly attractive with subtle strings of lights adorning their elegant facades.

9 Villiers Street
Tucked away around the back of Charing Cross station, Villiers Street isn't an obvious destination on the Christmas-lights circuit but well worth the effort (just 5 minutes' walk from Covent Garden). Suspended baubles twinkle merrily over the street – the view from The Strand is particularly poignant with the distant glow of the Embankment Tube roundel visible as you peer down the street towards the Thames.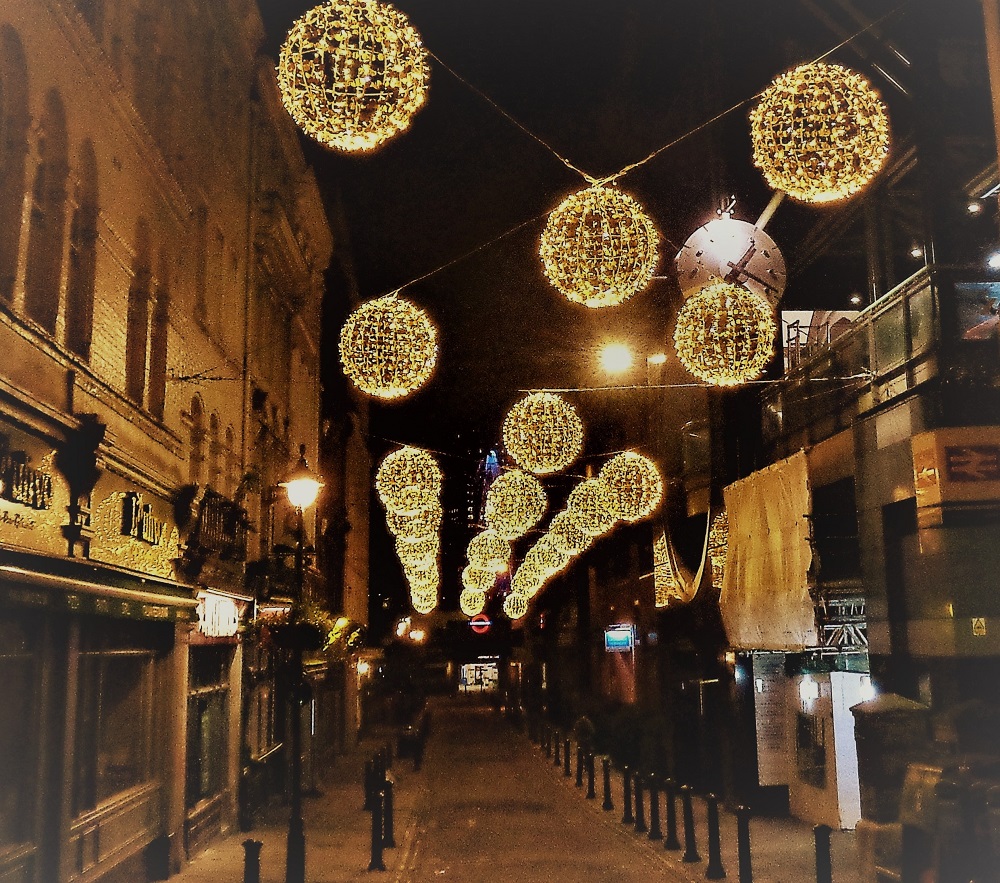 8 New Bond Street
New Bond Street is a firm favourite on the circuit with its peacock-themed display (apparently inspired by the stylish folk found round these parts in the late 1700s). The lights are crisp, dazzling and quite unique stretching for nearly 700m between Oxford Street and Piccadilly. It's a relatively quiet street for central London with wide pavements and just one lane of traffic, so a more pedestrian-friendly environment than most (particularly south of Grafton Street).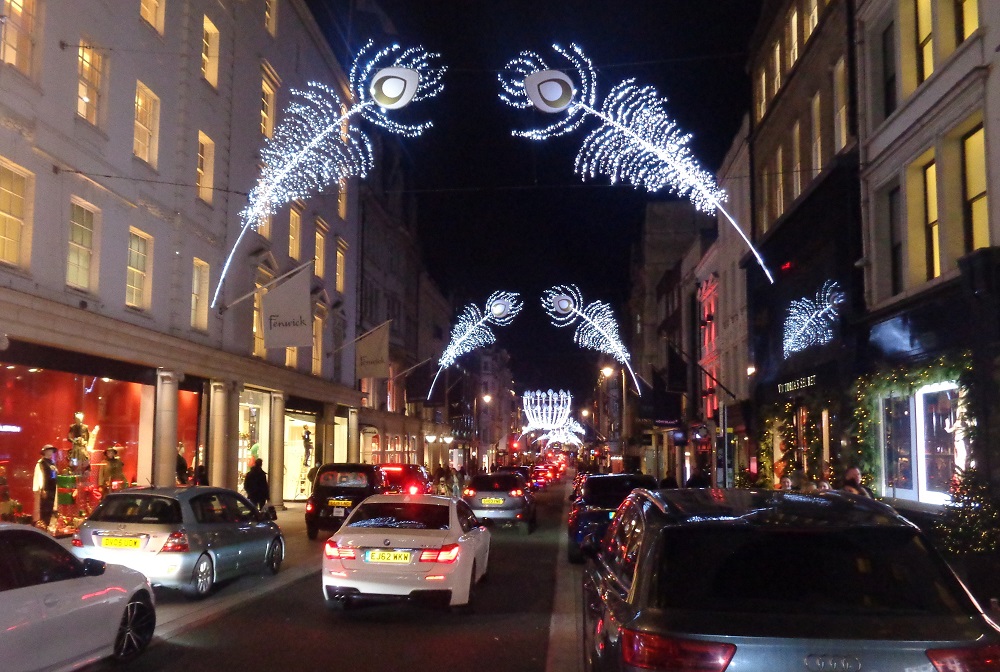 7 Oxford Street
Perhaps London's best-known lights and deservedly so. A complete overhaul in 2019, still in place for 2020, which saw a series of LED banners suspended above the street spelling out various inspirational quotes pertaining to both the festive season and 2020 more generally including, 'festive moments to treasure', 'with love for the key workers', and 'the kindness warming our winter'. Spanning well over a mile from Tottenham Court Road to Marble Arch it's the longest stretch of lights in central London.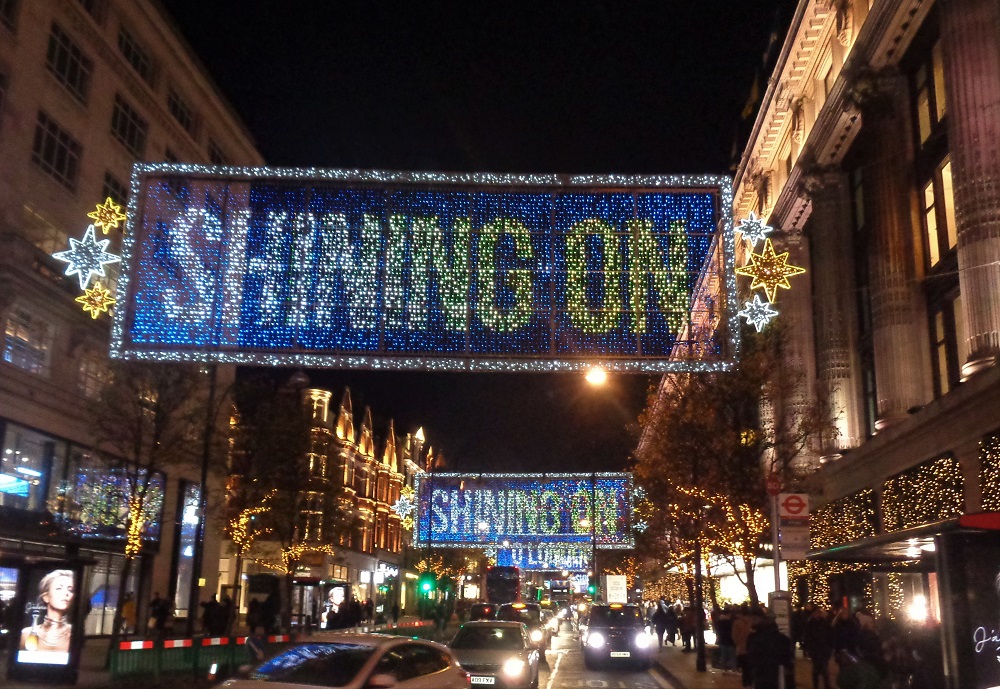 6 South Molton Street
With its northern end nudging Oxford Street (by Bond Street Tube) South Molton Street is a hidden-gem highlight on the Christmas lights trail, this year featuring a sequence of beautifully illuminated blue arches and criss-cross fairy lights spanning its 200m length down to Brook Street - Claridge's is just a minute or two to the west and well worth a wander to admire its traditionally festive frontage.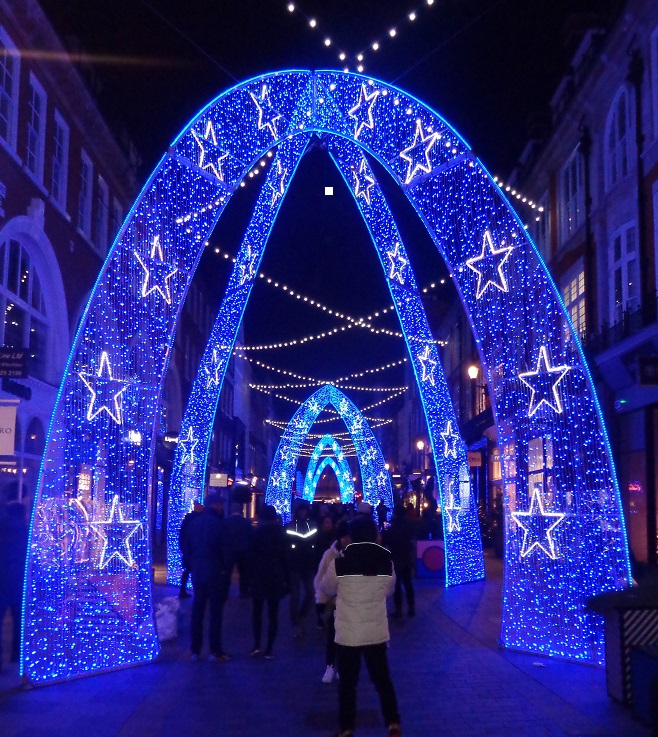 5 Carnaby Street
Carnaby Street deserves special praise for providing a differently themed display every Christmas. For 2020 they've teamed up with refugee-supporting charity, Choose Love, to provide a series of 'light boxes' spelling out messages of hope and positivity. The adjacent Kingly Court is always beautifully lit, and a great spot to recharge one's batteries with its fine choice of eateries and drinkeries.

4 Regent Street
It's hard to beat the sheer grandeur of the Regent Street 'floating angels' which stretch for nearly a mile from Mortimer Street in the north, through the elegant sweep of the central section towards Piccadilly Circus, and then onwards into St James. Regent Street was the first location in central London to display Christmas lights on a regular basis back in the mid-1950s.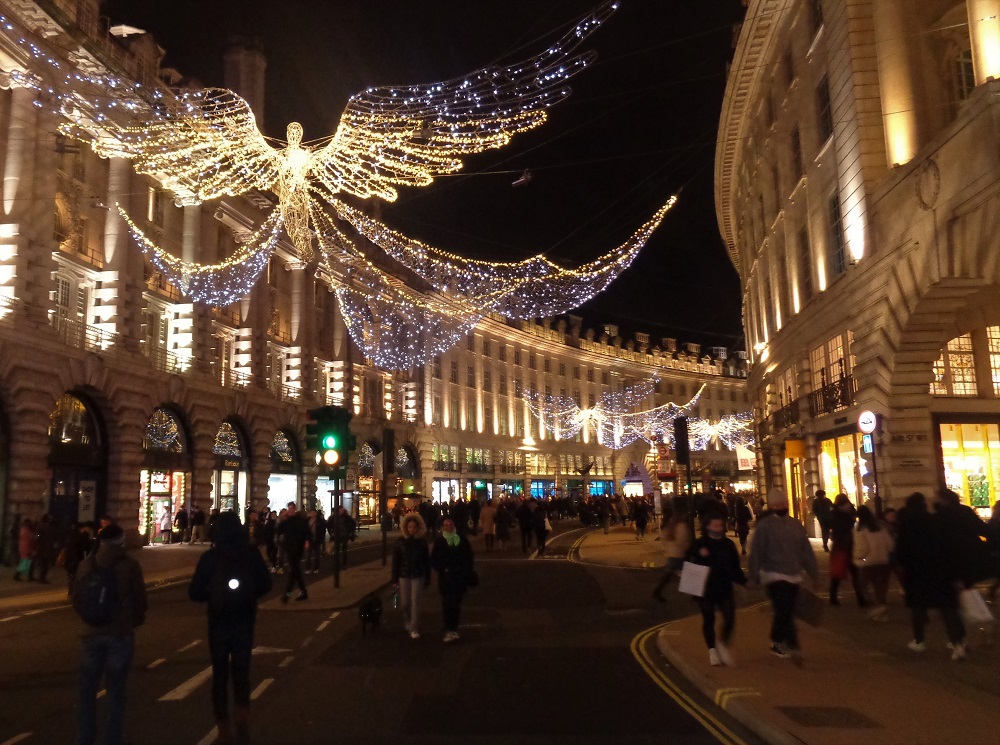 3 Marylebone High Street
Unpronounceable it may be, but we still love to visit Marylebone at Christmas time and admire the sinuous elegance of its festive lights. The laid-back warmth of the High Street is just a few minutes' walk from the hustle and bustle of Oxford Street but it feels a world away. Of particular interest to geographical historians may be Marylebone Lane (also part of the Christmas lights display), a street that follows the course of the long-lost River Tyburn that used to run from Hampstead to the Thames but was converted to an underground culvert in the late 1800s.

2 Seven Dials
Immortalised in Agatha Christie novel, 'The Seven Dials Mystery', and an infamous district in Victorian times, Charles Dickens once noted, "the stranger who finds himself in the Dials for the first time...at the entrance of Seven obscure passages, uncertain which to take, will see enough around him to keep his curiosity awake for no inconsiderable time." We'd recommend he could at least narrow it down to the five streets that form part of the 2020 Christmas lights display, or even stay put at the junction itself where a glorious golden wreath of lights hangs suspended around the historic Seven Dials column.

1 Waterloo Place
If it's the wow factor you're after, then Waterloo Place must make the top of the list. The most beautifully festooned of all the central-London Christmas trees combines with the stately backdrop of Regent Street's floating angels to staggering festive effect. The adjacent statue of Florence Nightingale adds additional 2020 poignancy in a year when nursing and all matters health-related have never been far from the headlines.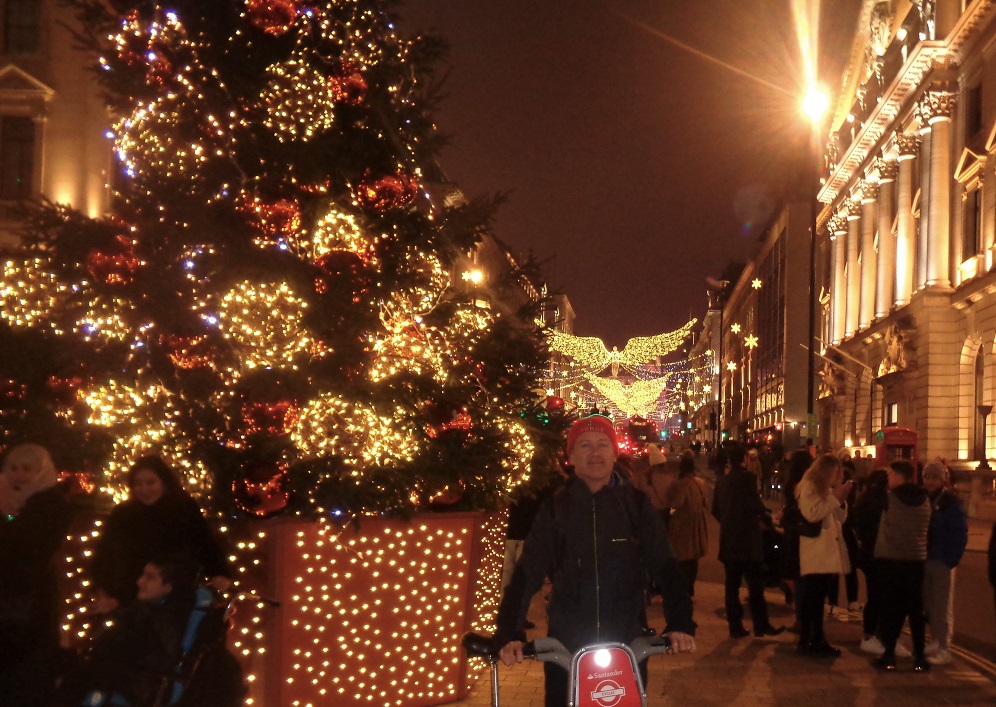 Dreaming of a 2021 ski getaway? Check out our range of
Alps maps
, including the bestselling
Skiing by Train
.

All images copyright Neil Guthrie 2020