London Christmas Lights 2022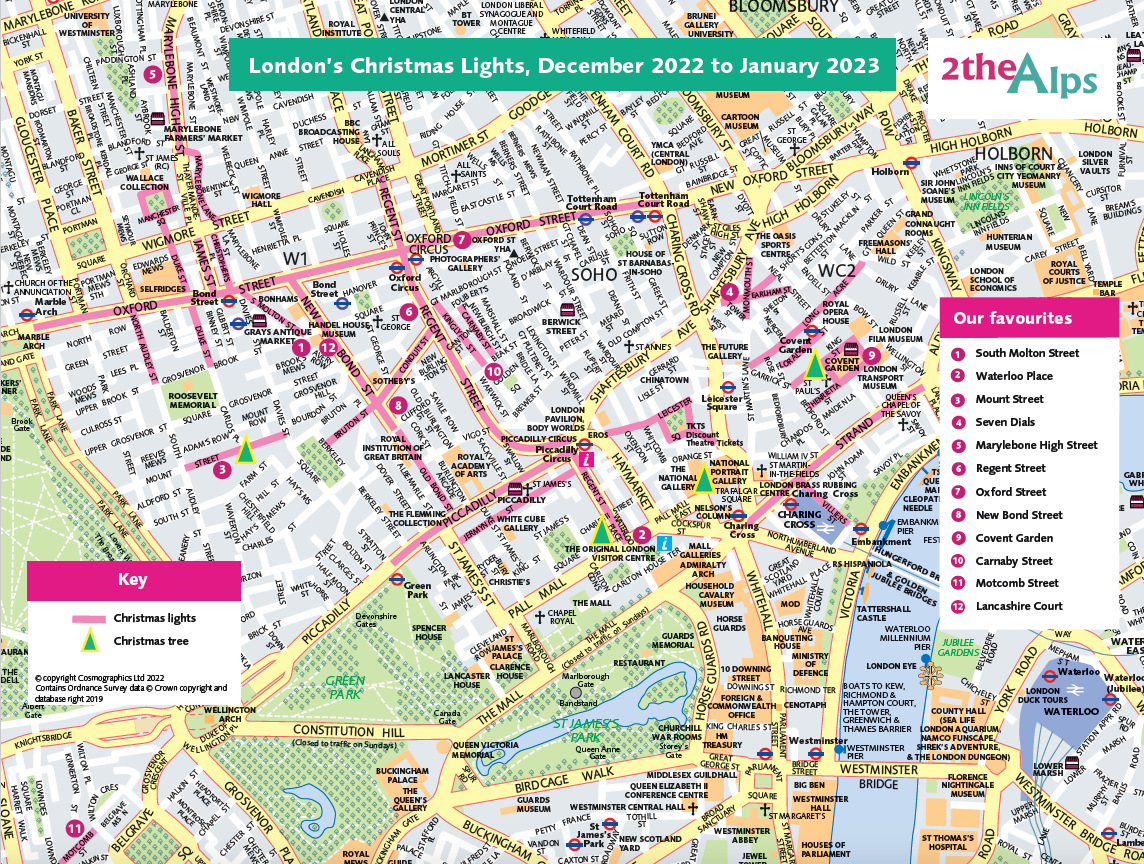 The 2theAlps London Christmas lights research team were a little worried that the displays would disappoint this year given the various economic challenges facing the capital and the wider country. Thankfully, we were proved wrong. This year's collection is arguably better than ever and we can't recommend a trip to see them enough, especially with the option to travel on the swish and speedy new Elizabeth Line taking you right to the heart of Christmas-lights land. Instead of our usual top 10, we've decided to highlight some of the more unique attributes of the various displays this year, but you can still see where all the main ones are on our map.
Our pick of the lights
Best for 'the wow factor'
They haven't changed this display for several years but the blue arched beauties at South Molton Street still take our breath away. And it's just around the corner from the newest Elizabeth Line station to open (Bond Street). (6 on map)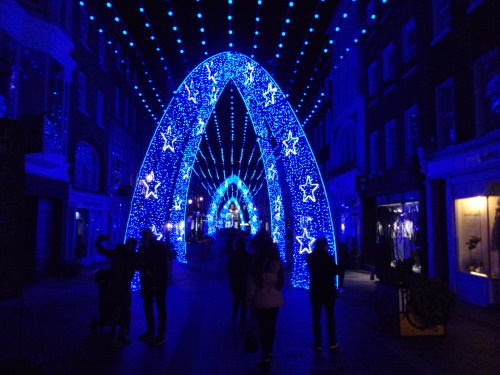 Best for 'new this year'
Bond Street – the elegant feathers have gone after several years of dutiful service, replaced by a celebration of the Queen's jubilee with beautiful golden crown shaped ornaments (planned whilst she was still alive). (8 on map)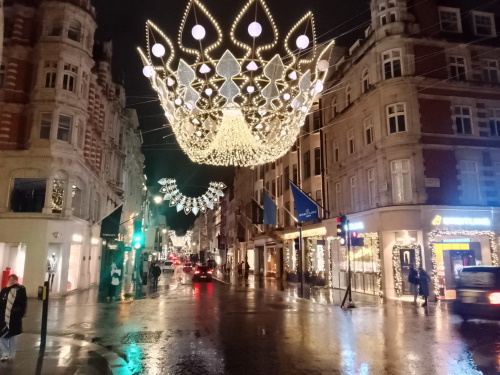 Best for 'unexpectedly pretty colours'
Seven Dials, always one of our favourite displays, doesn't disappoint this Christmas with some lovely pink and purple strings of lights draped across several of the seven streets. (2 on map)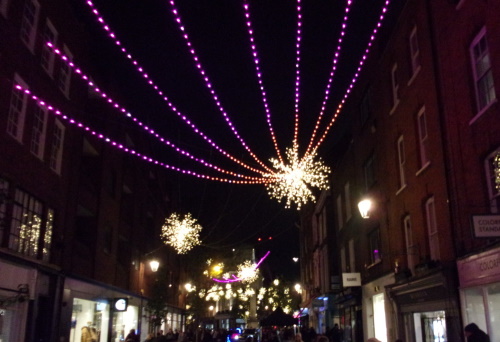 Best for 'getting away from the crowds'
Christmas lights inevitably attract large crowds (that's half the point) and tend to be on busy shopping streets. However, both Jermyn Street and Albermarle Street are relatively quiet backwaters with really impressive displays, just a minute's walk from Piccadilly. (southern end of 8 on map)

Best for Christmas tree
We're declaring it a dead heat between last year's winner (Waterloo Place) and the Charing Cross station tree which changes colour every few seconds! Covent Garden's majestic red and white twinkling tree, just a few minutes from Charing Cross, is also always worth a visit. (1 and top end of Villiers Street (9) on map)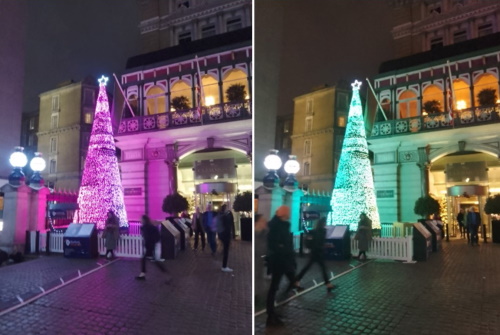 Best for 'most reliably epic display'
Regent Street. The floating angels are back yet again and remain as awe inspiring as ever, lending weight to the advice, 'if it ain't broke, don't fix it!' (4 on map)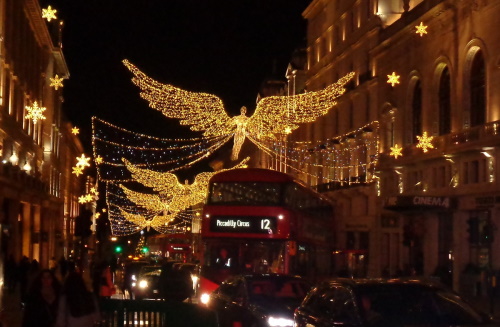 Best for 'lights with associated water feature'
Ponds and fountains don't immediately spring to mind when it comes to Christmas displays but on passing Trafalgar Square during our 2022 research trip, the 2theAlps research team were mesmerised by the sight of the Norwegian-gifted tree reflected in the fountain. There's also a Christmas market just up the steps and the square is popular with carol singers. Three good reasons to visit!

Best for 'al fresco dining experience'
We haven't eaten here but the pavement restaurants of James Street, just off Oxford Street (by Bond Street station) always look particularly inviting.
Best for 'tucked away down a Dickensian side street'
If you've ever made your way back from the West End to Waterloo, you've probably walked down Villiers Street. Even if it's not on your way home, it's well worth a diversion for the warm glow of its suspended baubles, and it connects directly with the neat 'North Bank' display on The Strand. (9 on map)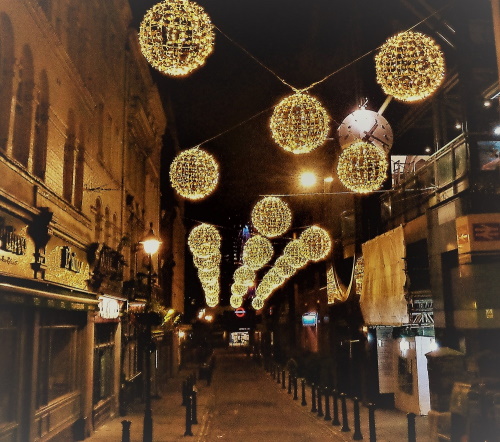 Best for 'glittering shop frontage'
Selfridges is looking particularly splendid this year, set against the warmth of the Oxford Street lights - another location very easily reached by the Elizabeth Line via Bond Street station.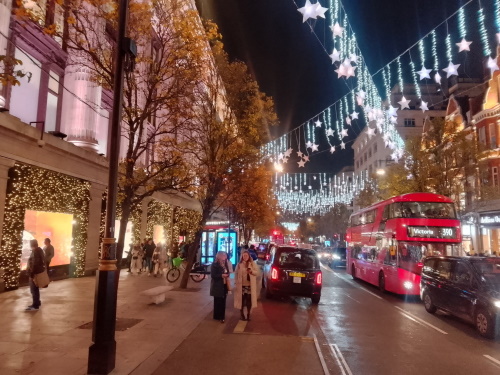 Dreaming of a 2023 ski getaway? Check out our range of
Alps maps
, including the bestselling
Skiing by Train
.

Images copyright Neil Guthrie 2022