RUHPOLDING Germany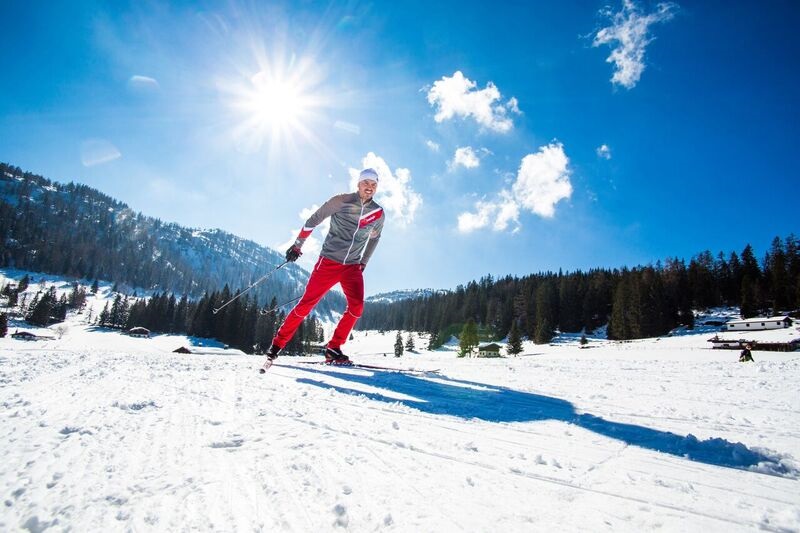 Ruhpolding Cross Country Skiing ©Ruhpolding Tourismus GmbH
Nearest airports: Salzburg (40 km); Munich (153 km)
On rail network: Yes

Overview
Ruhpolding's 73 small communities stretch out over the gentle hills and wooded mountains of the Chiemgau Alps. With its Romanesque Madonna from the 12th century, the town's parish church, visible for miles around, is one of the cultural highlights of the region as is the traditional Bavarian Lüftlmalerei (decorative facade painting) and the ornately embellished houses in the town centre. In 'Ruapading', as the locals call it, you will hear dialect spoken wherever you go. Folk costumes don't gather dust in the closet but are among everyday outfits. Tourism has a long tradition here and hospitality is a daily practice.
Ruhpolding's Westernberg and Unternberg ski arenas offer the perfect downhill conditions to get your first experience on the slopes or to fine-tune your technique. Skiers and snowboarders can also take the free ski bus to Seegatterl, where the gondola climbs up to the high plateau of the Winklmoosalm/Steinplatte ski area with its reliable snow conditions. Ruhpolding is also one of the most popular cross-country skiing regions in the world with an extensive network of scenic cross-country trails and snow shoe routes winding over snow-covered fields, through fairytale forests and past frozen lakes.
Summer brings a wealth of additional outdoor pleasures with over 240km of hiking paths, mountain climbs, cycle adventures, hill farms selling home produce, and the stunning 'Three Lakes' area, which lives up to its nickname 'little Canada'. Thanks to its central location between Munich, Innsbruck, and Salzburg, Ruhpolding is also the perfect departure point for day trips to the surrounding area including the Chiemsee with its enchanting Schloss Herrenchiemsee, the castles of Burghausen and the cultural pleasures of Salzburg.
Getting to resort

Airport transfer
Salzburg
is the closest international airport. From here there is a bus every 10-20 mins to Salzburg Main Station from where you can take the train to Traunstein (direction Munich). Change platforms at Traunstein to take the train to Ruhpolding (every hour during the day).
From
Munich
airport take the tramway (S8) to the 'München Ost' station. Change platforms here to take the train to Traunstein. Change platforms in Traunstein to take the train to Ruhpolding (every hour during the day).

By train
Ruhpolding is just a short rail journey from Traunstein which is located on the main line between Salzburg and Munich and served by direct trains.

In resort
Guests staying in the majority of the resort's accommodation can benefit from a free Ruhpolding eXtra Card. This entitles holders to free entry to Ruhpolding's leisure facilities as well as regional bus services to neighbouring towns.
The card also includes a free ski bus in the winter to the 'Winklmoosalm/Steinplatte' ski area.
Further information