Ski Resort Wall Map of the Alps
Format: Encapsulated wall map
ISBN: 978 185879 7274
Dimensions: Flat sheet - 990 x 630mm
Scale: 1: 1,336,500
Published: March 2017
Publisher: 2theAlps
Price: £24.00
Perfect for the office or home wall, or as a unique gift for a ski enthusiast, the encapsulated wall map version of our new Ski Resort Map of the Alps is printed on quality matt paper which is then bonded between two sheets of tough, flexible, crystal clear plastic, perfect for framing without the need for glass. It also allows you, should you wish, to write on/wipe off with dry or wet pens.
The first comprehensive ski-resort focused map of the Alps, the map shows (and indexes) the positions of 640 resorts across the seven Alpine countries, making it an invaluable tool for independent skiers and other winter sports enthusiasts, both at the holiday planning stage and whilst away.
All the well-known international resorts are included such as Kitzbuhel, St Anton, Val D'Isere and St Moritz, and there are also hundreds of lesser known places offering the opportunity for independent adventure and exploration in the world's biggest ski-resort mountain range.
The map enables people to plan their travel to, and through, the mountains and includes over 30 airports highlighting those with railway stations for an easy onward transfer. It also shows ferry crossings of the major Alpine lakes including a number of resorts where a cable car or funicular railway takes you directly from the lakeside ferry stop to the ski area for an unforgettable travelling experience.
As well as a pre-holiday planning tool, the map is ideal for a ski-safari type holiday involving travel between resorts whether by rail, road or water. The product of painstaking research, the map also shows how readily many places can be reached by greener methods of transport, with around 150 resorts accessible by train (shown with a symbol) while many others can be reached by bus.
attractive, clear mapping showing the location of 640 indexed alpine resorts in Austria, France, Germany, Italy, Liechtenstein, Slovenia and Switzerland
mountain railways, local and high speed lines to help plan transfers from airports, or international travel by train
Eurostar Ski Train route from St Pancras to the French Alps
complete network of major roads across the region and minor roads serving resorts
roads closed for winter
resorts directly accessible by train
large linked ski areas, such as the 3 Valleys and the Portes du Soleil region highlighted and indexed
main ferry services across the Alpine lakes that take you to, or close to, resorts
the position of over 30 airports in, or near, the Alps, highlighting those with their own railway station for an easy onward connection
resorts with thermal spas included and indexed
extensive information on 100 selected resorts (extent of downhill and cross-country skiing, altitude and vertical drop, number of lifts, availability of glacier skiing, and accessibility by train)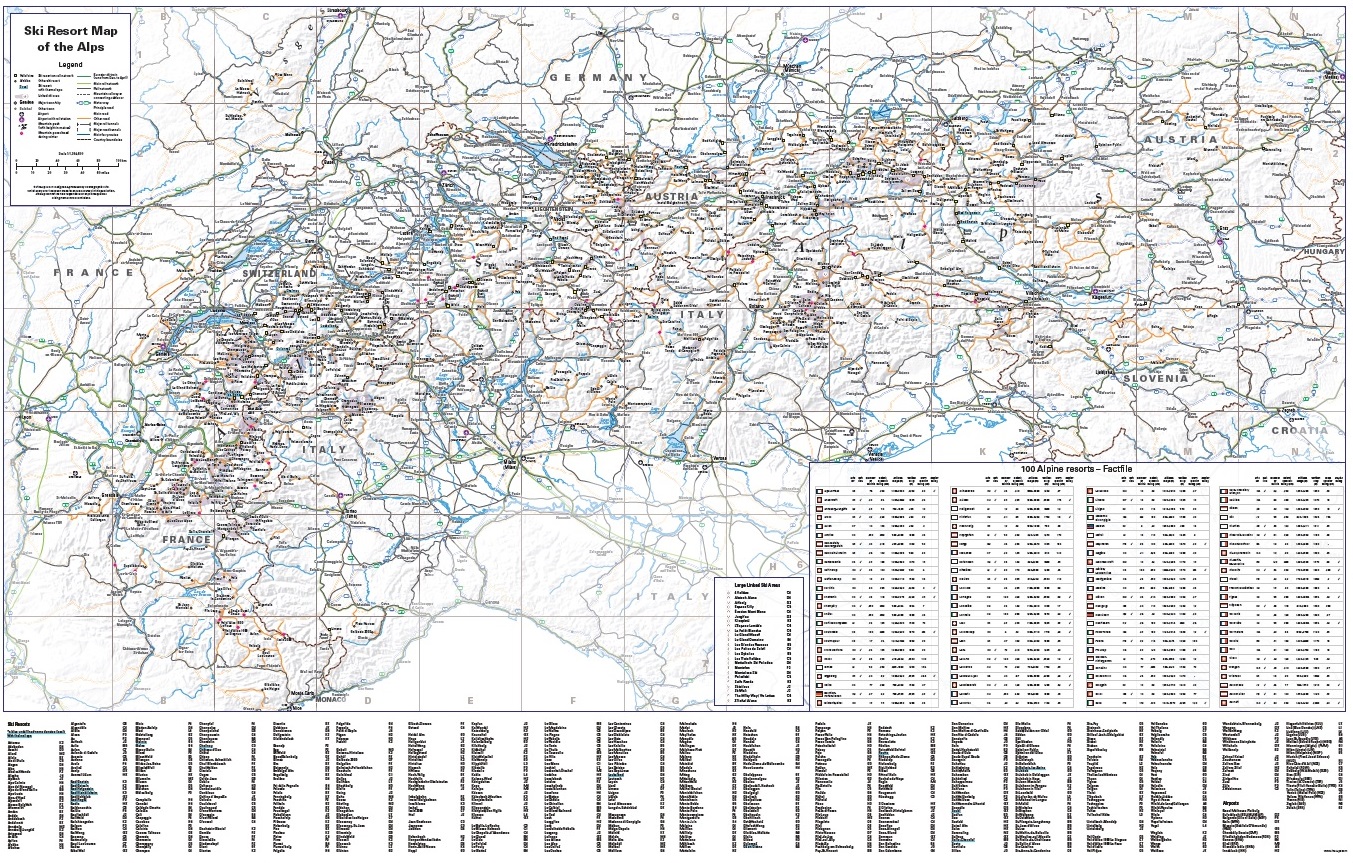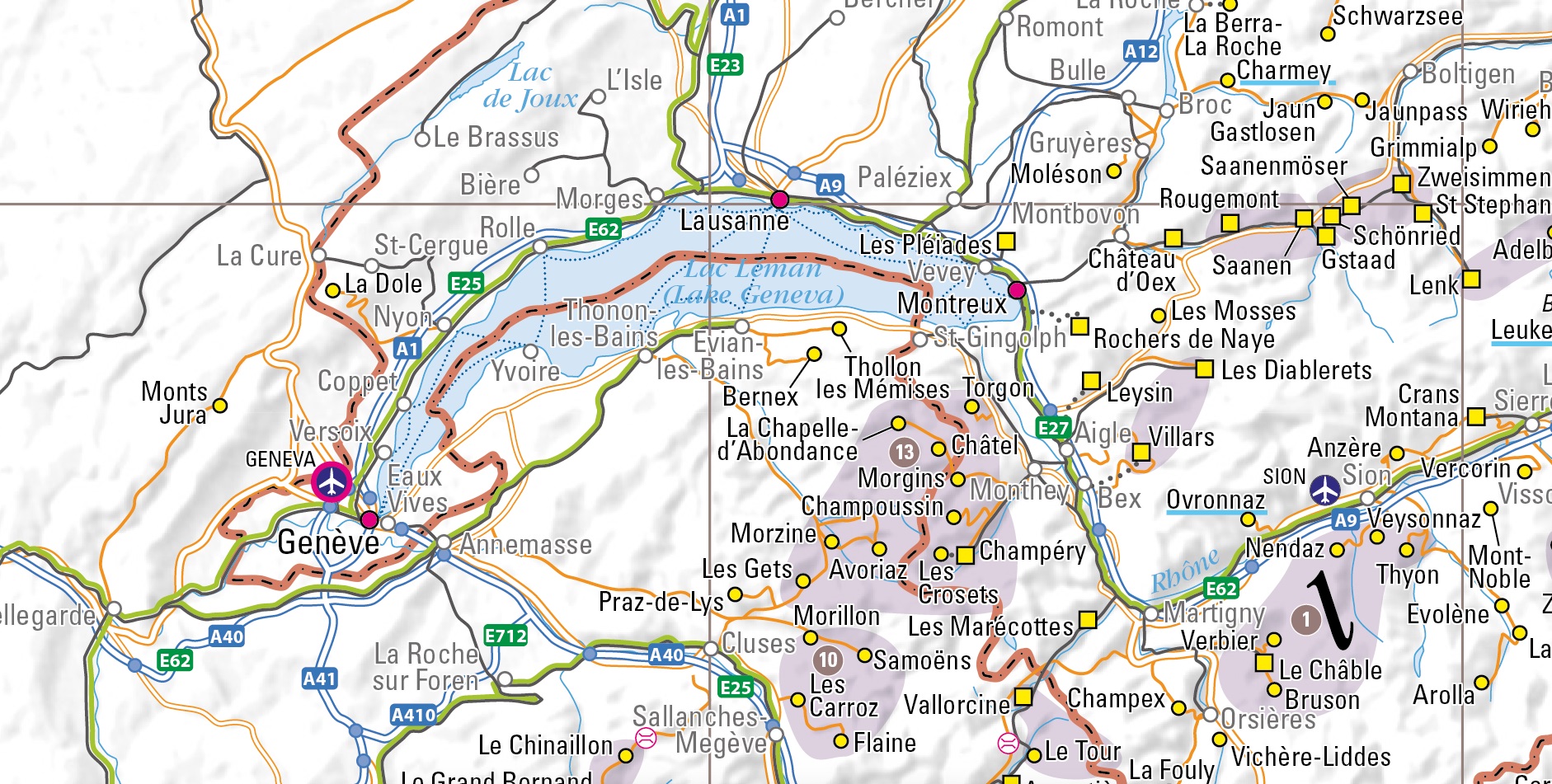 UK customers (£5.00 P&P)
Europe customers (£7.50 P&P)
For orders outside Europe please contact us for postal charges