Driving to the Slovenian Alps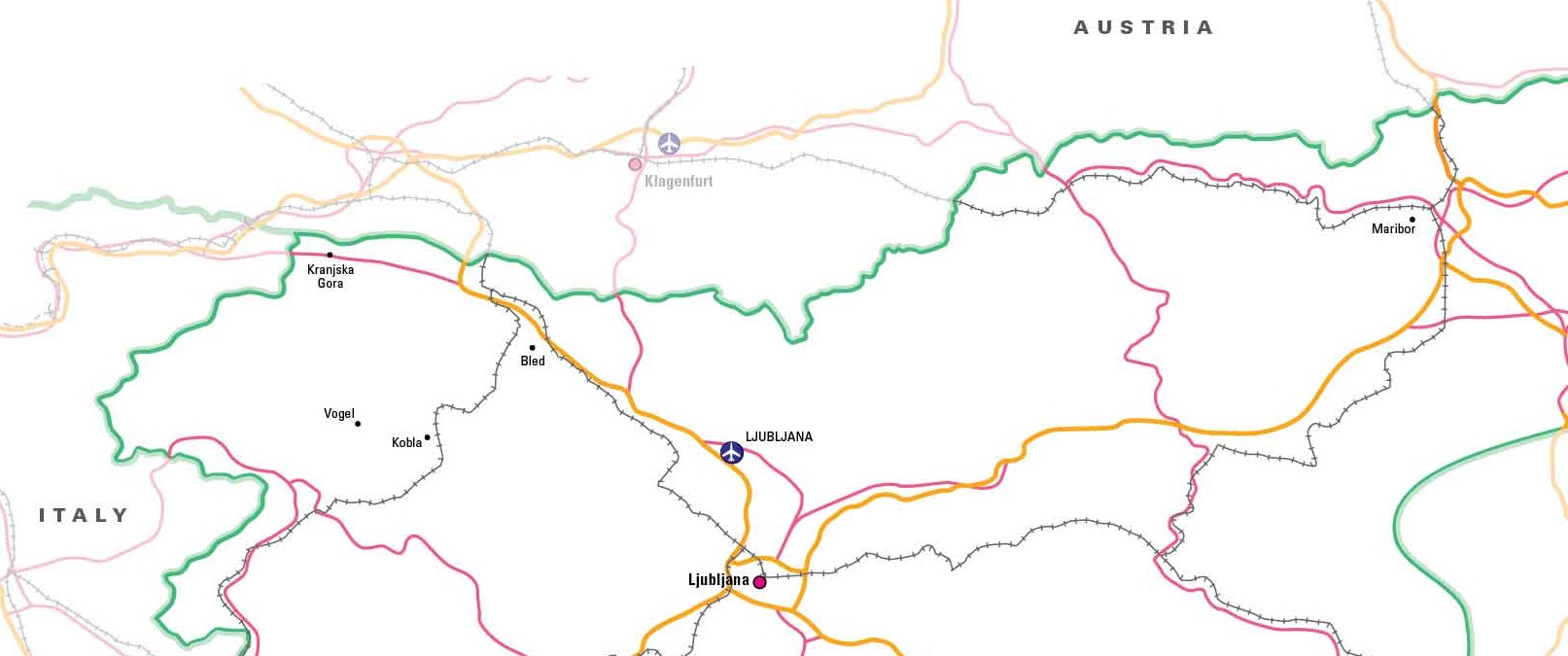 For adetailed road map please visit our map shop
Slovenia's resorts are largely situated at a lower altitude than the rest of the Alps and getting to them by car is easy. Although most resorts are small, distances between them are also relatively small and the roads good, meaning those with a car can easily combine skiing in several resorts from one base.
It's a long drive to Slovenia from the UK (some 950 miles or 15 hours from London to Maribor). The fastest route is on the motorways through Belgium, Germany and Austria – you'll also avoid the French tolls this way. Alternatively there's a good choice of low cost flights to Ljubljana as well as to Trieste, Venice and Salzburg, all of which make excellent entry hubs for onward road travel by hire car.
Bear in mind that if you are driving on motorways and expressways in Slovenia you must display a motorway vignette and you must have your headlights turned on at all times - see below for more information. If you are driving through
Austria
a vignette is also required.
Motorway vignette
All vehicles wishing to drive on motorways and expressways in Slovenia must display a motorway vignette. Vignettes can be purchased at the border and in main petrol stations, as well as in neighbouring countries. Prices: from 7.50 EURO for 1 week –
more information
Winter driving
From 15 November to 15 March (and beyond these dates during winter weather conditions) private cars and vehicles of up to 3.5 tonnes must have winter equipment, ie winter tyres on all four wheels, or summer tyres on all four wheels and carry snow chains. In both cases, the minimum tyre tread depth must be 3mm.
Equipment
All cars must carry:
• A first-aid kit & fire extinguisher
• Warning triangle
• Reflective jacket (for use when walking on the road at night or daytime)
Speed limits
(For cars up to 3.5 tonnes)
Built up areas 50km/h
Outside built up areas: minor roads 90km/h; fast roads 100km/h; motorways 130km/h
Other regulations
Road safety regulations require the use of dipped headlights at all times when driving, even during the day.
In line with the European average, driving is not permitted with a blood alcohol content above 0.5g per litre. Breath tests are frequent.