Skiing by Train in the Swiss Alps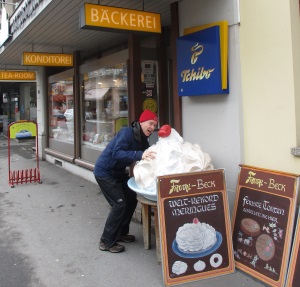 'Welt Rekord' meringue shop, Meiringen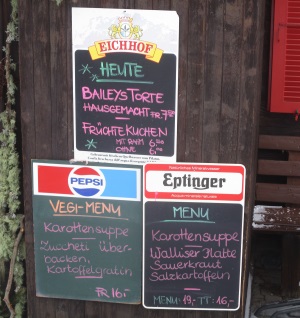 Lunchtime menu at Unterbach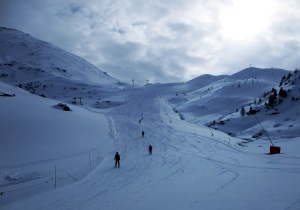 High mountain skiing at Unterbach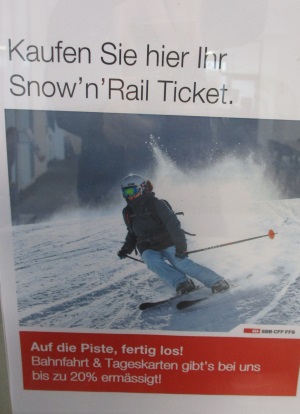 2theAlps has contributed to an article about skiing by train in Switzerland in the December 2017 issue of Fall-line. Below is an extended version of our contribution. Pick up a copy of Fall-line to read the main article.
Interlaken is an excellent base for day trips by train with a wealth of ski resorts on its doorstep ranging from little-known gems overlooking the local lakes, to mega resorts in large connected ski areas. We've selected three relatively little known resorts, and explained how to get there from Interlaken (1hr 50mins by train from Zurich).
Interlaken to Meiringen
Interlaken to Meiringen is a short and enjoyable train ride taking a little under 35 minutes (from Interlaken Ost). The route follows the shore of Lake Brienz with great views across the water up to the locals' resort of Axalp (reached by a bus from Brienz). At Meiringen station it's a pleasant 10 minute walk through the town centre to the cable car that whisks you up to the main Hasliberg ski area (there is ski hire at the top). The ski area rises to 2430m with nearly 1400m of vertical and 60kms of piste spread across a broad area offering a good diversity of pistes, many of which are tree lined. We lunched at the rustic Gummenalp mountain hut with its welcoming atmosphere and wholesome local fare. No visit to Meiringen is complete without a meringue (invented here!) and ours were no disappointment, grabbed in a cosy tea-room in the main street on our way back from the cable car to the station.
Interlaken to Adelboden
The journey from Interlaken to Adelboden involves two trains and a bus but all connections worked with slick Swiss efficiency making our journey a hassle-free pleasure. We bought Snow'n'Rail tickets which cover all travel and a day's lift pass, offering around a 20% discount. The journey involved a change of trains at Spiez (great viewpoint looking over Lake Thun next to the station if you have 10 minutes to wait), then switching to the bus at Frutigen for the 35 minute trip to Adelboden. Stay on the bus until you reach the town's bus station at the end of the line. Turn right out of the bus station and it's a 5 minute walk along Adelboden's attractive bustling main street to the bucket lift that drops you down do the gondola (and ski hire) serving the main ski area. The gondola takes you up to Berglager and onwards to the vast Adelboden-Lenk ski area with around 90kms of slopes, nearly 1000m of vertical, and connections to the distant rail-served resort of Lenk.
Interlaken to Unterbach via Brig
It only takes an hour to reach Brig from Interlaken thanks to the Lotschberg Base Tunnel which opened in 2007. From Brig station you could easily access several of the best known resorts in the Alps (eg Crans Montana, Zermatt, Verbier) so why choose a tiny little place like Unterbach?
Well for starters, if you're only a spending a day there, you can't really do justice to the skiing available at a mega resort. Then, for those on a budget, there's the issue of cost - a day at Unterbach works out at less than half the price of its more celebrated neighbours. And, for those who enjoy a linguistic challenge and a slightly more exotic atmosphere, very little English is spoken at these smaller resorts, and a few German phrases will be invaluable at the ski hire shop and mountain restaurant.
Raron station is just 11 minutes by train from Brig. From here it's a 5 minute walk to the Unterbach cable car (follow the main road to the south, and it's across the roundabout on the left). The cable car crosses a twisting ravine as it transports you from drab valley floor to winter wonderland, with ski lifts and pistes just two minutes' walk from the top station (you pass a very welcoming ski hire shop on your right).
The ski area is long and linear with an impressive 1300m vertical. The top part has a pleasingly remote, high-mountain feel to it with quiet pistes set among dramatic peaks. A new lift is planned for this season adding several kms of high altitude slope. If conditions allow, there are linking pistes to the neighbouring resort of Eischoll (covered by lift pass). The restaurant at Brandalp (1600m) had a lively buzz at lunchtime with reasonably priced meal combinations (starter + main course 16 CHFs) and a delicious homemade 'Baileys Torte' for dessert.
Unterbach isn't just known for its skiing. Over 450 years ago the village received the Papal blessing to build its own church and, in 1957, women in Unterbäch went to the ballot boxes for the first time in Switzerland.