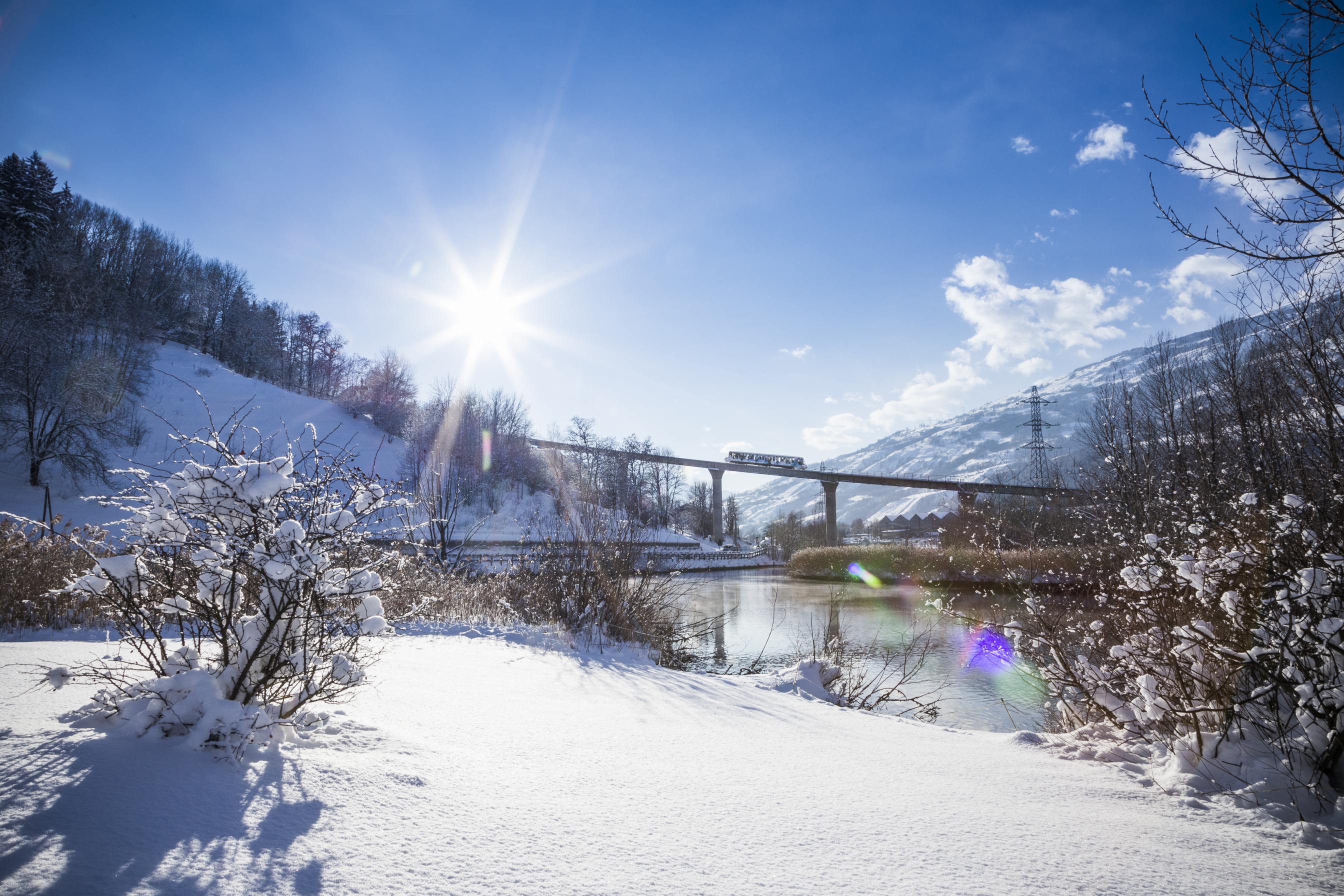 Bourg St Maurice Funicular, Les Arcs copyright Manu Reyboz
London to the Alps by train - 10 resorts in less than 10 hours
Here at 2theAlps, we're big rail enthusiasts both for the transfer from airport to resort and for the entire journey from the UK. Our research team has been busy finding the quickest rail journeys to the Alps from the UK, all of which take less than 10 hours and the fastest just 7hrs 55 minutes. By comparison, flying to the Alps usually takes between 8 and 10 hours when all transfers, time spent in the air and at the airport etc. are included so it is possible that some rail journeys in our list may be quicker overall (door to door) than flying.
For this exercise we're focusing on ski resorts with railway stations, so no taxi or bus connection is needed at the end of your journey. This isn't an exhaustive list of all sub 10 hour resorts but we've included the fastest ones and a selection of the most interesting. In our research, we based these on an early departure from St Pancras on a Saturday morning in March 2018. Also, some journey times can be reduced with more changes – we've limited ours to four. So here they are, our top 10 resorts by train from slowest to fastest…
10. Gstaad, Switzerland 9h 59 min (Paris, Basel, Berne, Zweisimmen)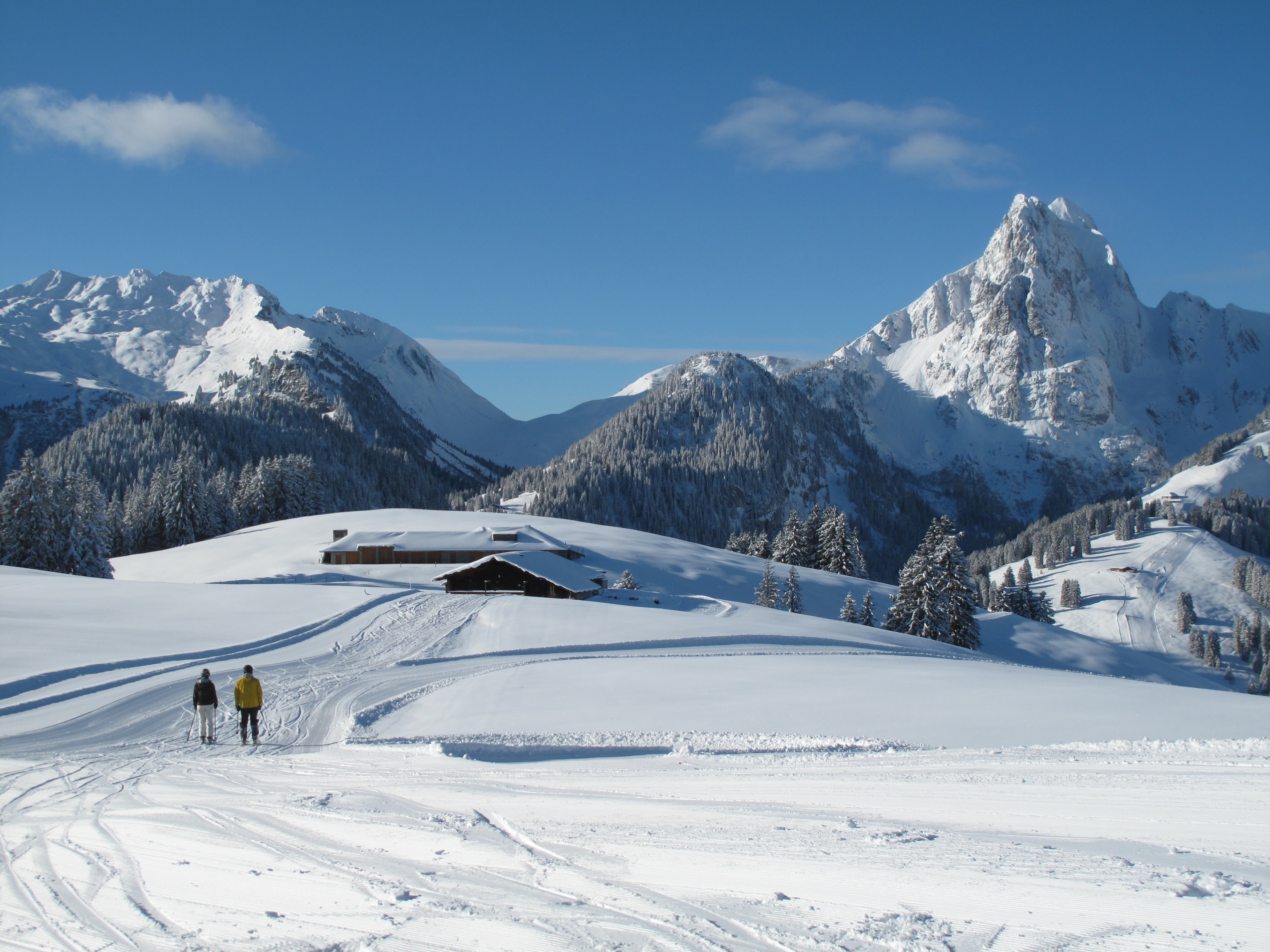 ©Gstaad Saanenland Tourismus
Gstaad sneaks in to our list with a journey time of a fraction under 10 hours from the UK. It's a lovely place, and a great part of the Alps for skiing by train with several neighbouring resorts linked by the same line (including Chateaux D'Oex just 20 minutes away on the line to Montreux).
9. Meiringen, Switzerland 9h 45 (Paris, Basel, Alten, Lucerne)
Meiringen has two claims to fame. Its proximity to the spectacular Reichenbach Falls (where Sherlock Holmes was last seen alive), and its invention of sugary sweet foodstuff, the meringue - there is no shortage of places to enjoy the delicacy as you make the 10 minute stroll from train station to cable car.
8. Oberstaufen, Germany 9h 39 (Paris, Stuttgart, Ulm)
We were keen to find a German ski-rail resort in our search for sub 10 hour trips, and we finally succeeded with Oberstaufen. Offering a modest 12 lifts and 18km of slopes, it is one of the smaller resorts, a short distance from both the Austrian and Swiss borders so plenty of opportunities for international skiing in neighbouring resorts.
7. Champery, Switzerland 9h 02 (Paris, Lausanne, Aigle)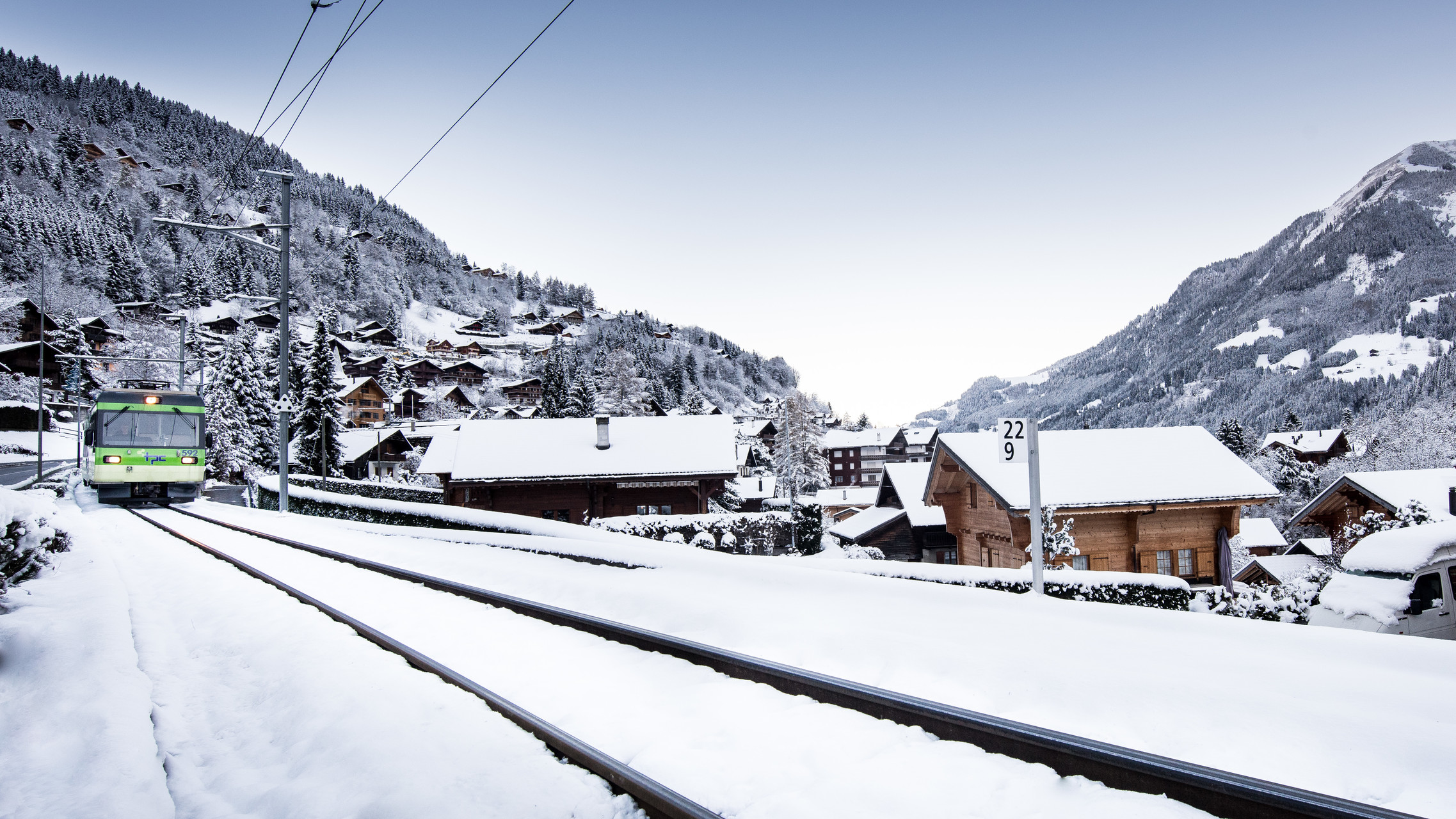 Champery mountain railway copyright JB Biueville
Unbeknownst to many, it is possible to reach the enormous Portes du Soleil French/Swiss ski area by train but only if you're staying at Champery on the Swiss side. The last couple of hours on the train are particularly enjoyable, along the majestic sweep of Lake Geneva before changing at Aigle for the steep rack-and-pinion line to Champery.
6. Sattel Hochstuckli, Switzerland 8h 59 (Paris, Zurich, Wadenswill, Biberbrugg)
One of the closest resorts to Zurich by train taking just under an hour from the Swiss capital. Includes two unusual features of note - one, what claims to be the world's first revolving gondola, and the second, Europe's longest suspension footbridge (at its 2010 opening), over 370m long and nearly 60m above the valley. Yikes!
5. Chateau D'Oex, Switzerland 8h 51 (Paris, Geneva, Montreux)
Chateau D'Oex is little known to the UK market but famous amongst hot air balloonists as it hosts a 'festival des ballons' every winter. It's an attractive town, and worth a visit just for the spectacular train journey from Montreux where it zigzags high above the town with beautiful views across Lake Geneva.
4. Chamonix, France 8h 47 (Paris, Bellegarde, St Gervais)
Chamonix is a little further on from St Gervais on the narrow gauge line that continues across the border to Switzerland. A world
famous resort overlooked by Mont Blanc, Chamonix has some of the Alps' most challenging and beautiful glacial skiing territory including the epic Vallee Blanche run accessed via the Aiguille de Midi cable car, the world's highest for two decades from its opening in 1955.
3. Les Arcs, France 8h 45 (Bourg St Maurice)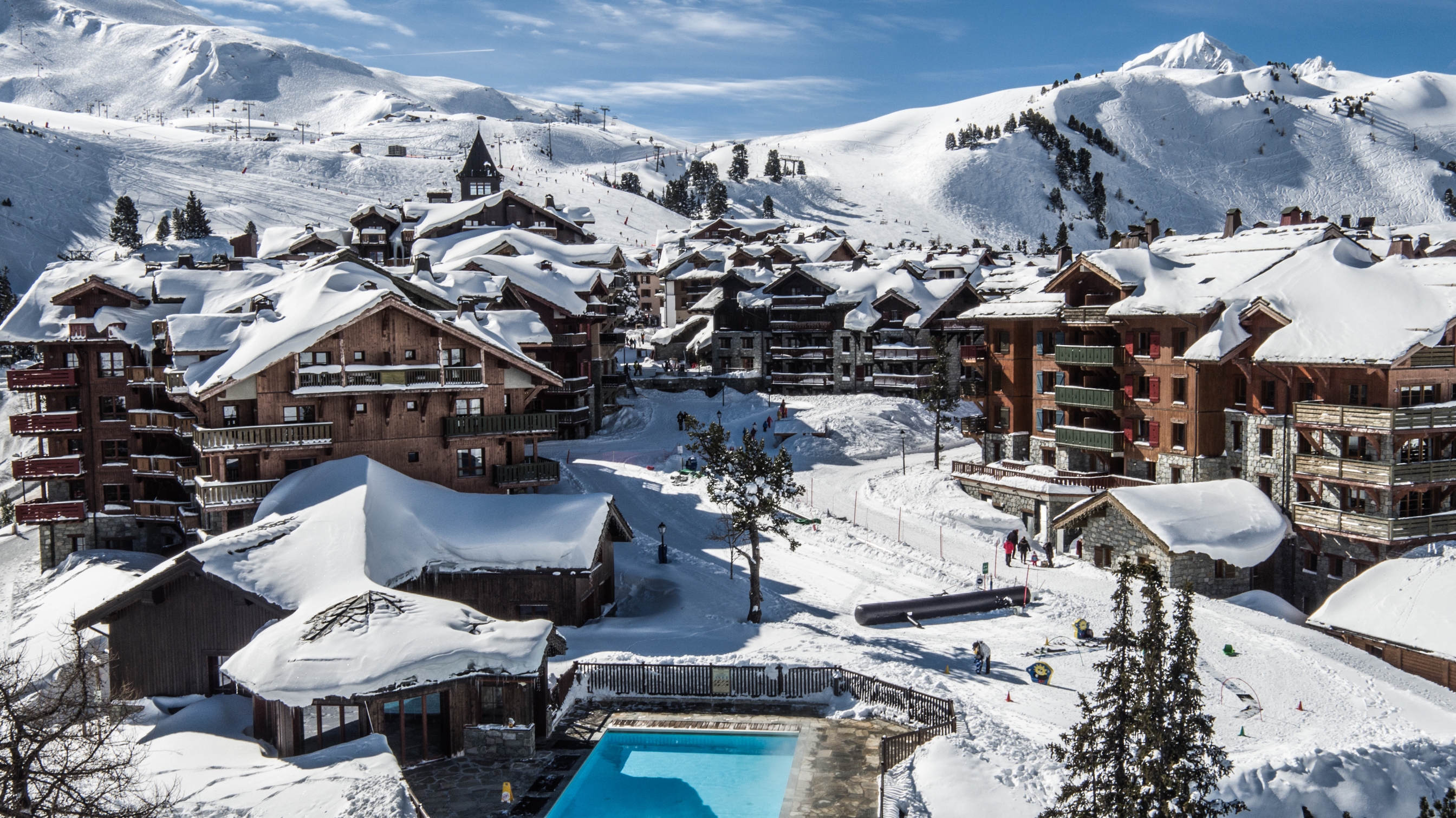 Les Arcs 1950 copyright Fred Marchadier
This is the route of the direct Eurostar service from St Pancras every Friday night and Saturday morning throughout the winter. The journey takes just under 8h 20 to Bourg and then a short walk along the platform to the connecting funicular that whisks you up to Arcs 1600.
2. St Gervais Les Bains, France 7h 55 (Paris, Bellegarde)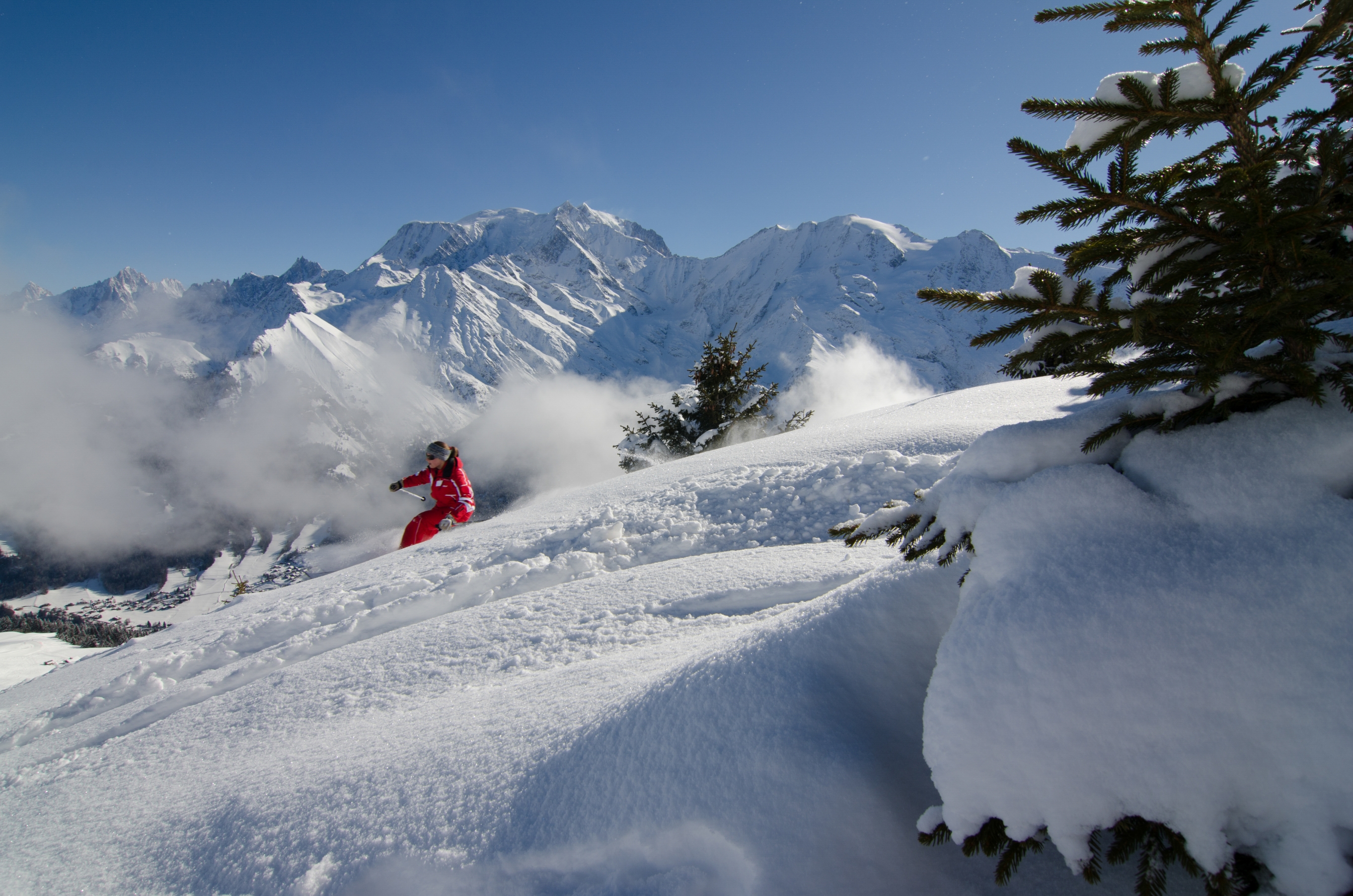 Office de Tourisme de Saint-Gervais copyright Guillaume Borga
St Gervais (part of the Megeve ski area and with its own thermal springs) is the final stop on the standard-gauge line which means that journey times are relatively swift. The line continues as a narrow-gauge mountain railway from here deeper into the French Alps (and on to Martigny in Switzerland).
1. Bardonecchia, Italy 7h 55 (Paris)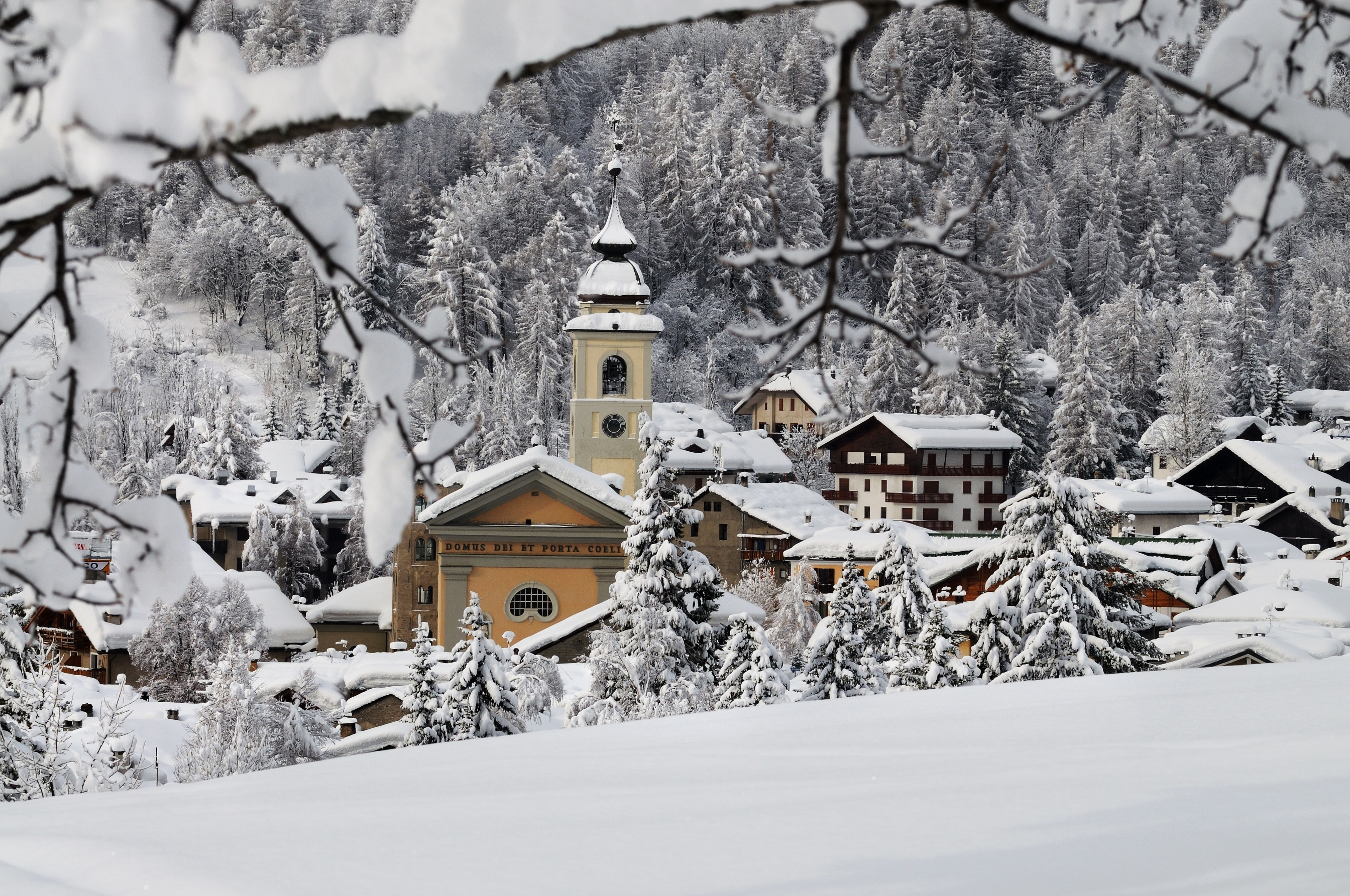 Bardonecchia Old Town ©Ufficio del Turismo di Bardonecchia
Surprisingly, despite being the other side of the French Alps from the UK, an Italian resort has come out as the joint quickest to reach by train. Why? Well it's on the high speed main line from Paris to Turin. Although the train stops in the French Alps before Bardonecchia eg at Modane, there are no resorts with stations before it reaches Italy. It is also theoretically possible to ski on the same day (just!) with the earliest train on Saturday arriving shortly after 3pm, then a 10 minute walk to the ski lift.
BONUS: Aviemore/Cairngorms 7h 19 (Edinburgh)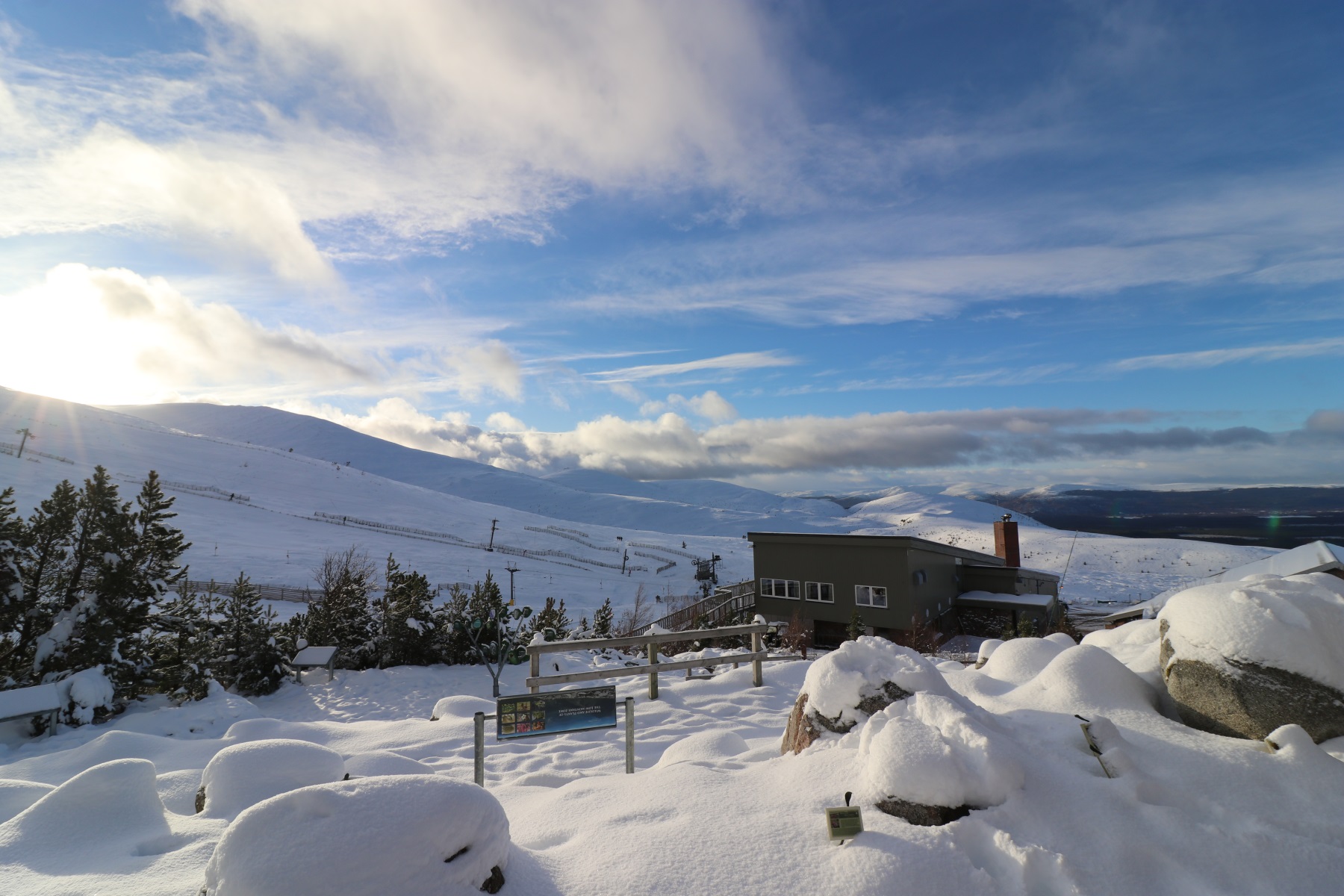 Although nowhere near the Alps, we can't resist a little plug for one of our own domestic resorts especially as 2018 is shaping up to be a bumper season north of the border. It's a quicker journey (but not by much!) than any train to the Alps, with no need to worry about passports, time zones or euros. There's a direct train most days from Kings Cross taking just under 7h 30, and a slightly quicker service with a change at Edinburgh. Also, we should point that the skiing is a bus ride from the station (so not a true ski-rail resort) but it only takes 20 minutes and is a very scenic ride with views of Loch Morlich and up to the Cairngorms. There's an overnight option from Euston, courtesy of the iconic Caledonian Sleeper – takes over 10 hours but arrives before 8am, just in time for the first lift!