The Alps - Skiing by Train
A simplified schematic style map, 'The Alps – Skiing by Train' makes it easy to plan journeys to and through the mountains by rail with over 215 ski resorts shown. It covers the seven Alpine countries from France in the west to Slovenia in the east and shows mountain railways, main lines and the Eurostar route into the French Alps.
Rail-served resorts are highlighted in blue including well known destinations such as Zermatt, St Anton, Chamonix and Kitzbuhel. Resorts not on the rail network such as Meribel, Saas Fee and Courmayeur are shown in red with bus links to the nearest station, making it easy for adventurous holidaymakers to plan their own independent journey to the mountains.
As well as the familiar mega resorts, the map includes lesser known obscurities such as:
- Greolieres Les Neiges in Provence (with views across the Mediterranean to Corsica)
- Switzerland's Stoos (home of the recently opened world's steepest funicular train)
- Slovenia's Bovec which overlooks the Adriatic Sea and which is the country's only resort that enables cross-border skiing into Italy
30 airports are shown and those with their own railway station are highlighted to help holiday-makers select routes with an easy onward transfer.
Examples of rail journey times between the Alps and the UK are also provided to encourage people to make the full journey by train. Geneva, for example, can be reached in just over 6 hours from London by train, and Grenoble in just over 7 hours, resulting in door-to-door journeys which can compete with flying to the region.
The map can be used to plan transfer trips from airport to resort, to plan the whole journey by train from the UK, or to stitch together an itinerary for a ski-rail safari* i.e. a multi-resort holiday, spending a day or two in each place before travelling on to the next one by train. Alternatively it makes a great souvenir or piece of wall art. If you're thinking of the latter opt for our durable encapsulated versions which allow you to easily frame without the need for glass.
*Check out our December blog for some examples of ski-rail safari itineraries
Available as a free lo-res download, high-resolution print (see below) and a variety of personalised versions incorporating your choice of images and text.
High-Resolution PRINTS
All our prints use high quality satin photo paper 260gsm in a choice of either paper or encapsulated format
A2 Print
420 x 594 mm (16.5 x 23.4 in)
A3 Print
297 x 420 mm (11.7 x 16.5 in)
A4 Print
210 x 297 mm (8.3 x 11.7 in)
Other sizes are available - please contact us for prices.
To enquire about wall maps, corporate versions, licences, folded map versions and other bespoke versions, please contact us.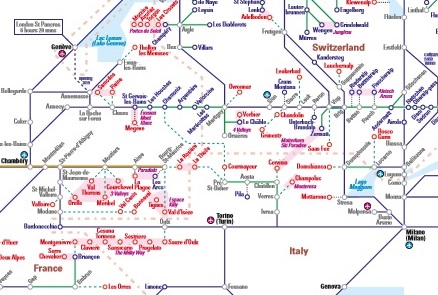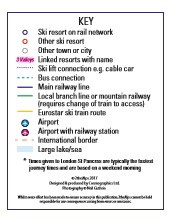 "Our new map sets out the Alpine rail network as you've never seen it before - clear and comprehensive with more travel options than you can shake a ski pole at. Increasingly, winter sports adventurers are voting with their ski-boot clad feet, leaving the car behind and deciding to arrive in style after a relaxing and carbon-friendly train journey through the magical Alpine landscape for a transfer that becomes a holiday highlight in its own right."
Neil Guthrie, Marketing & Research Manager, 2theAlps