The Alps - Skiing by Train
Much like the iconic topological Tube Map, this schematic style map sets out to simplify rail journeys to and through the Alps. Featuring over 215 ski resorts, it shows mountain railways, main lines and the Eurostar route, making it easy for adventurous holidaymakers to plan their own independent journey to the mountains.
Rail-served resorts highlighted including well known destinations such as Zermatt, St Anton, Chamonix and Kitzbuhel
Resorts not on the rail network such as Meribel, Saas Fee and Courmayeur shown with bus links to the nearest station
30 airports shown and those with their own railway station are highlighted to help holiday-makers select routes with an easy onward transfer
Includes familiar resorts as well as lesser-known gems such as Greolieres Les Neiges in Provence, with views across the Mediterranean to Corsica, and Switzerland's Stoos, home of the recently opened world's steepest funicular train
Available as high resolution prints, personalised prints and a free low res download. We can also create bespoke versions at any size, including giant wall maps - contact us
High-Resolution PRINTS
All our prints use high quality satin photo paper 260gsm in a choice of either paper or encapsulated format and a choice of A2, A3 or A4 sizes. More on formats.
Also available as a personalised print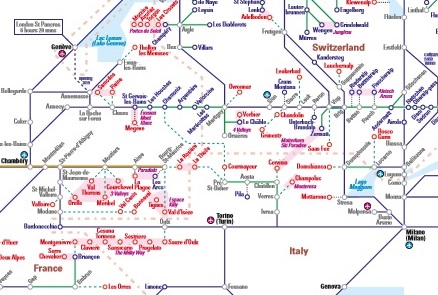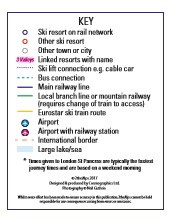 "Our new map sets out the Alpine rail network as you've never seen it before - clear and comprehensive with more travel options than you can shake a ski pole at. Increasingly, winter sports adventurers are voting with their ski-boot clad feet, leaving the car behind and deciding to arrive in style after a relaxing and carbon-friendly train journey through the magical Alpine landscape for a transfer that becomes a holiday highlight in its own right."
Neil Guthrie, Marketing & Research Manager, 2theAlps
Published: March 2018
---
SkiRail Map of the Alps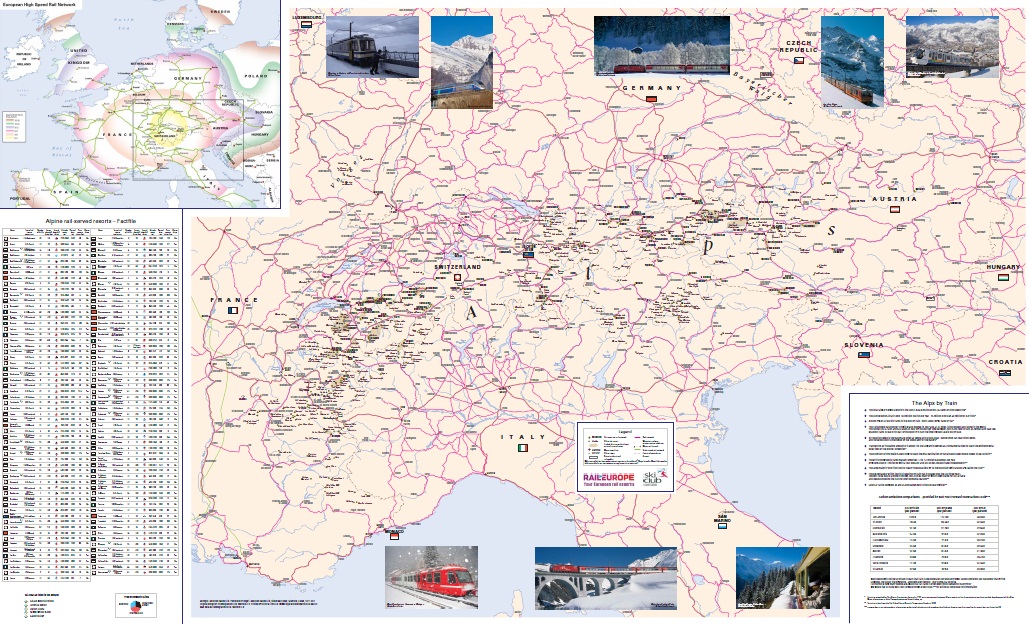 the entire Alpine region at an approximate scale of 1: 1,400,000
clear mapping showing the rail network through the Alps and the location of over 400 ski resorts
detailed information on over 100 ski resorts directly accessible by train including extent of downhill and cross-country skiing, altitude range and vertical drop, number of lifts, difficulty of skiing, rail journey times to the nearest major city
rail routes to the Alps from over ten European countries with approximate journey times
free booklet containing detailed resort and country information plus contributions from Rail Europe and the Ski Club of Great Britain
BUY MAP
The map that began it all. Charting the position of over 440 resorts across the Alps, this clear and detailed winter-sports map remains the first to focus specifically on rail routes through the Alps, enabling travellers to plan their journeys to winter sports resorts by train from the UK or an Alpine airport.
Published: 2011
Scale: 1: 1,400,000
Folded map with insert booklet
ISBN: 978 1 85879 6918
Sheet size: 1180 x 720 mm
£4.50 (includes UK shipping)
Paper wall map
ISBN: 978 1 85879 6925
Sheet size: 1180 x 720 mm
£16.00 (includes UK shipping)
Encapsulated wall map
ISBN: 978 1 85879 6932
Sheet size: 1180 x 720 mm
£27.00 (includes UK shipping)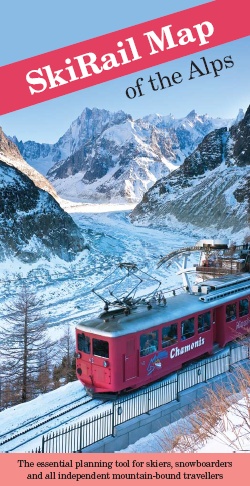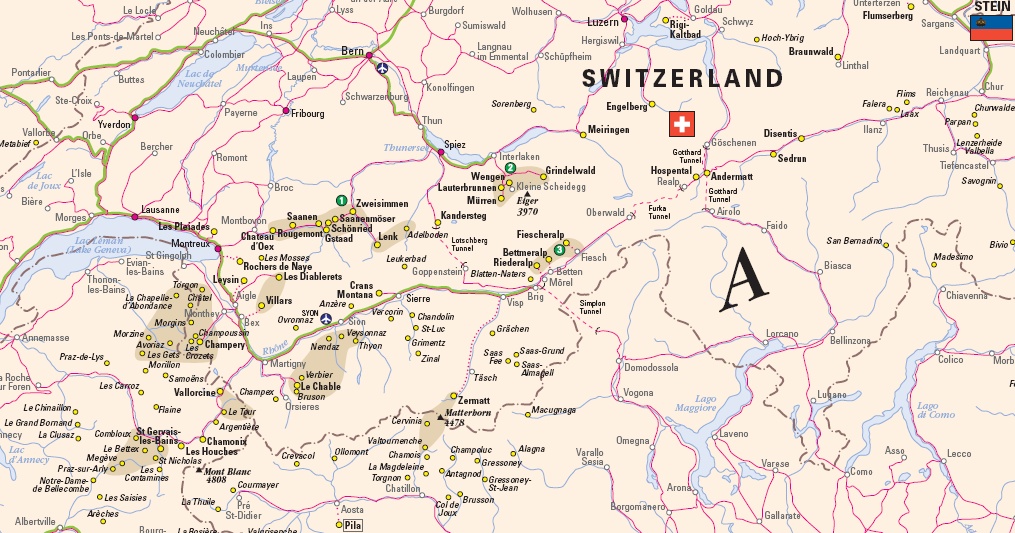 WHAT OUR REVIEWERS SAY...
"A much better option than trying to make sense of the various rail networks' websites'"
@CHAMONET.COM
"An interesting and helpful start to your rail experience"
WHERE YO SKI & SNOWBOARD (WEBSITE)
"For less than a tenner it puts everything you need in one handy package. See its brilliance in 1:1,400,000 form! And if you're planning a big ski rail trip this winter, it's indispensable. Verdict – excellent if you fancy a rail jaunt. Useful even if not as it maps out all resorts, how they are linked, and how to get there."
Fall-line SKIING ISSUE 95
"This map enables you to understand where resorts are – and plan exciting journeys to reach them. I love it!"
RESPONSIBLE SKIING
"A map showing the key rail routes to the main Alpine resorts – a terrific idea"
THE MAN IN SEAT 61
"Green-minded skiers and boarders should get their hands on this map"
GREEN MAGAZINE
"Great news for anyone who's been thinking of train travel as a way of reducing their carbon emissions"
NATIVES