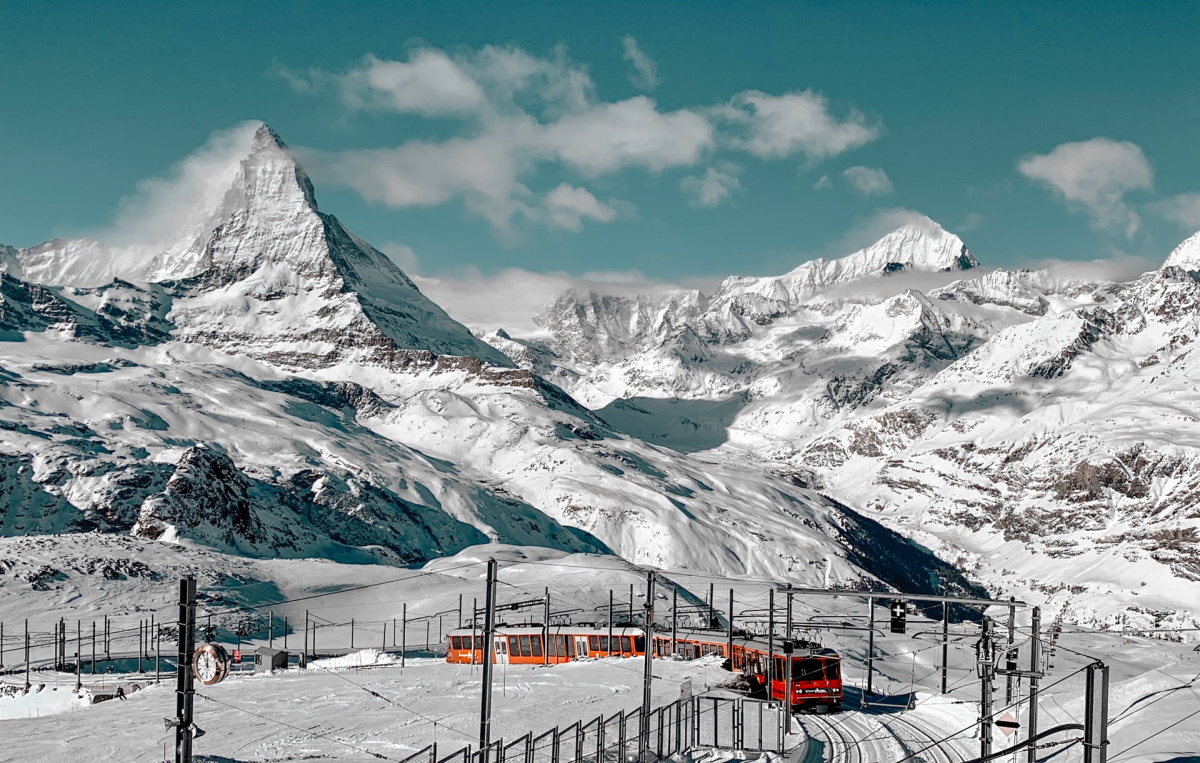 Zermatt, Switzerland / Victor He on Unsplash
Ten Rail-Served Resorts for April
April can provide some surprisingly good skiing conditions in the Alps – it's not just about sunburn and slush! Colder weather systems can arrive (as is happening as we write this piece) bringing fresh snow to the slopes which can remain surprisingly quiet, even in the Easter holidays.
It's the first proper chance for April skiing in the Alps since 2019 so we urge you to make the most! We've selected 10 resorts which are due to stay open until at least April 10th, some considerably later, all of which are accessible by train. We've used www.skiresort.info for our research but please check with resort websites to confirm exact closing dates as this can depend on conditions from week to week. We've also provided sample rail journey times from Paris based on a Saturday morning departure in April. Paris is just under 2 hours and 20 minutes from London St Pancras.
Resorts are presented in alphabetical order.
1. Andermatt, Switzerland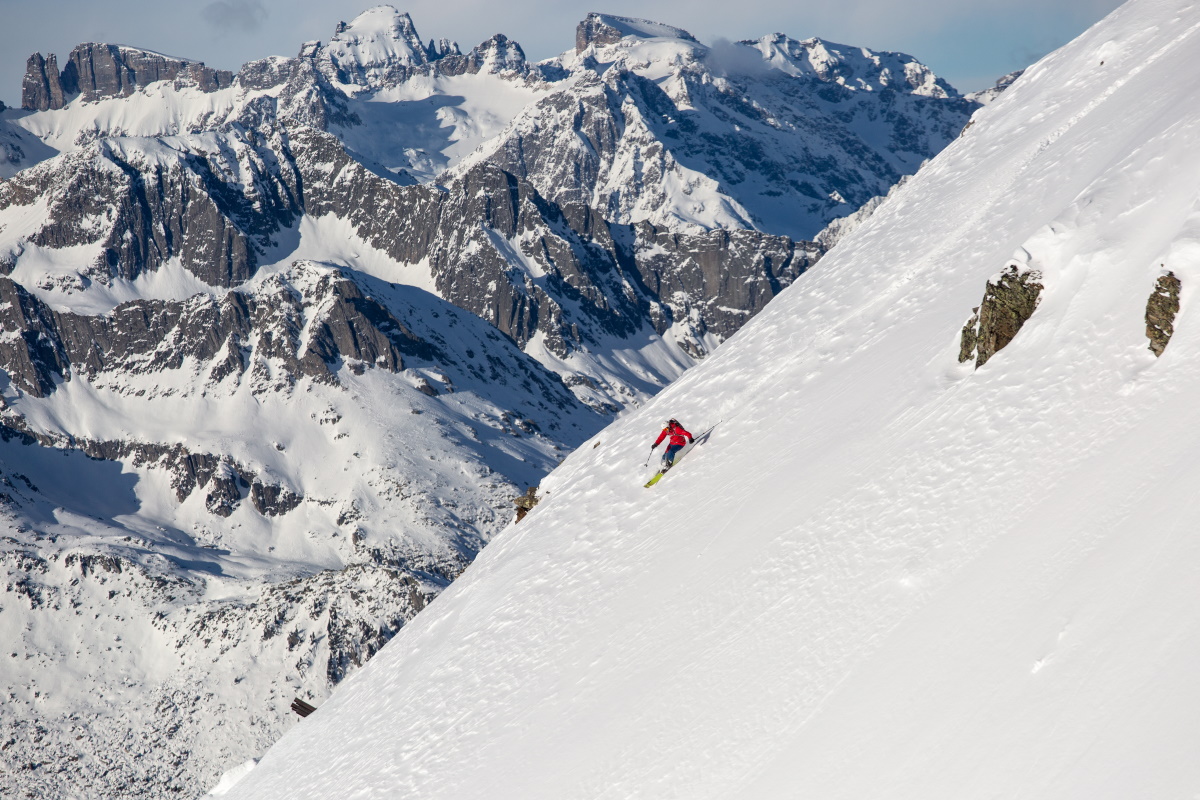 Andermatt off-piste ©Ferienregion Andermatt
Although a relatively modest resort height of 1400m, Andermatt's local Gemsstock slope tops out at 2,960m and there is a wide choice of runs above 2,000m in the string of linked resorts across towards Natschen, Oberalppass and Dieni, with more still a short train ride away at Disentis. Andermatt has great rail connections both east-west and north-south - the quickest journey we found from Paris (on Saturday April 9th) was 6hr 44 changing at Basel, Arth Goldau and Goschenen.
2. Bardonecchia, Italy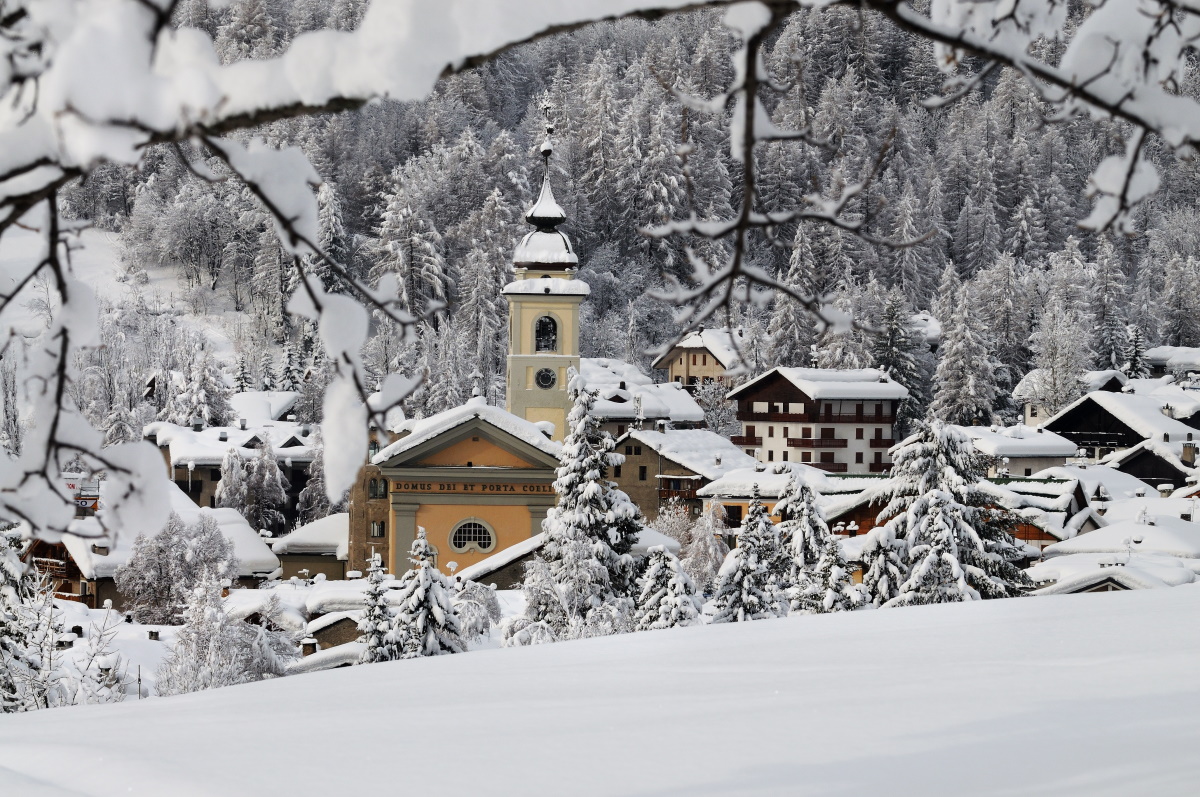 Bardonecchia Old Town ©Ufficio del Turismo di Bardonecchia
Bardonecchia is the only Italian resort in our list and benefits from its location on the main line through the Alps from France to Turin which means it can be reached in just under 4h 30 minutes from Paris (no changes needed). The resort boasts 100km of slopes, a top lift at 2,800m and an impressive vertical drop of just under 1500m.
3. Bettmeralp, Switzerland
The lesser-known Swiss resort of Bettmeralp is a 2theAlps research-team favourite. It's part of the Aletsch Arena linked ski area with a decent 104km of pistes, most of which are above 2,000m (highest point at 2,869m), and with many hotels offering ski-in, ski-out access to the slopes. The resort is reached via a cable-car at the valley railway station (Betten Talstation) which can be reached from Paris in just under 5 hr 50 with changes at Geneva and Brig.
4. Chamonix, France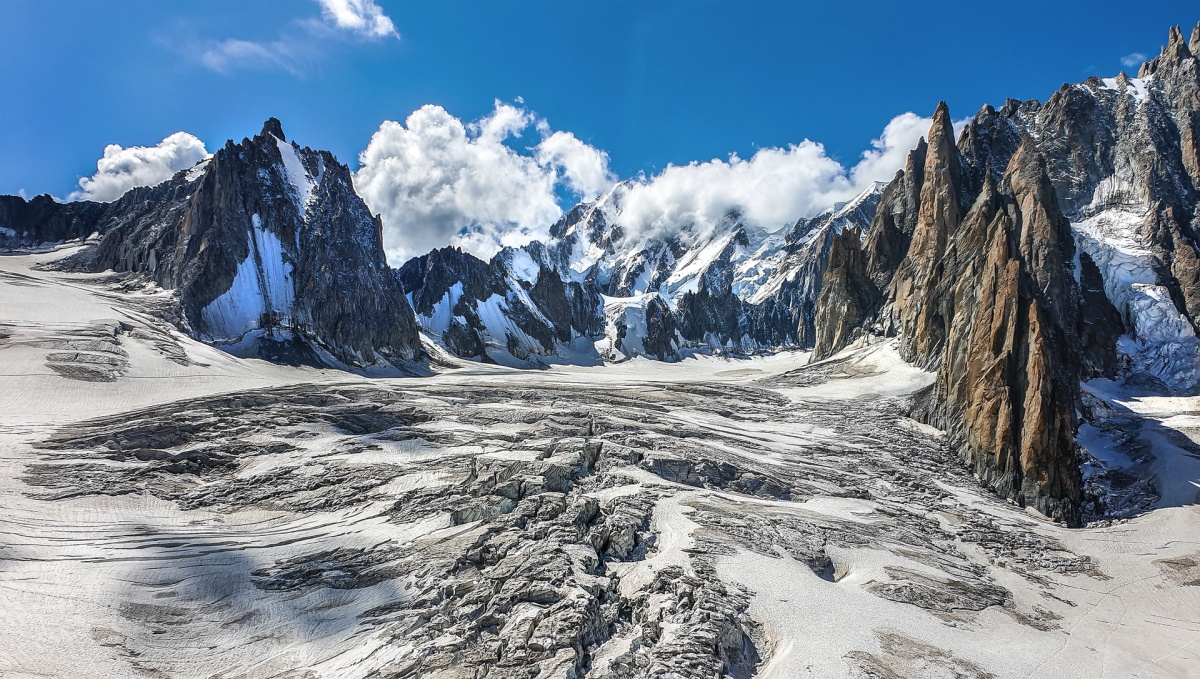 Chamonix Aiguille du Midi / Matteo Max Putzolu on Unsplash
The epic Mont Blanc-facing mountain town of Chamonix comes next on our list with several of its valley resorts remaining open well into April. The town can be reached in two directions by train – from across the Swiss border (on the narrow-gauge mountain railway) via several rail-served resorts such as Vallorcine and Les Marecottes, or from the St Gervais direction to the west where it meets the main line from Paris. The quickest journey time we found from Paris was 6h 26 with changes at Annecy, La Roche and St Gervais.
5. Crans Montana, Switzerland
Crans Montana is a little further up the Rhone Valley than Verbier and can be accessed via a funicular which connects with Sierre station. The shortest journey time from Paris to Sierre we found is just under 5h 20 with changes at Geneva and Sion. The resort has an impressive 140km of slopes with many located well above 2,000m, up to the highest point at 2,927m.
6. Diavolezza, Switzerland
We remain in Switzerland for our next resort of Diavolezza which usually offers skiing into May. This one's a little less accessible (at least from the Paris direction) but perhaps all the more appealing for it, with quickest journey time of just under 10 hours (change at Basel, Zurich, Landquart and St Moritz). A particularly snow-sure resort with all the pisted skiing lying above 2,000m, there is also a wonderfully remote ski-route (sampled and enjoyed by the 2theAlps research team!) that follows the Morteratsch glacier all the way down to 1900m, conveniently ending at the Morteratsch railway station and hotel.
7. Les Arcs, France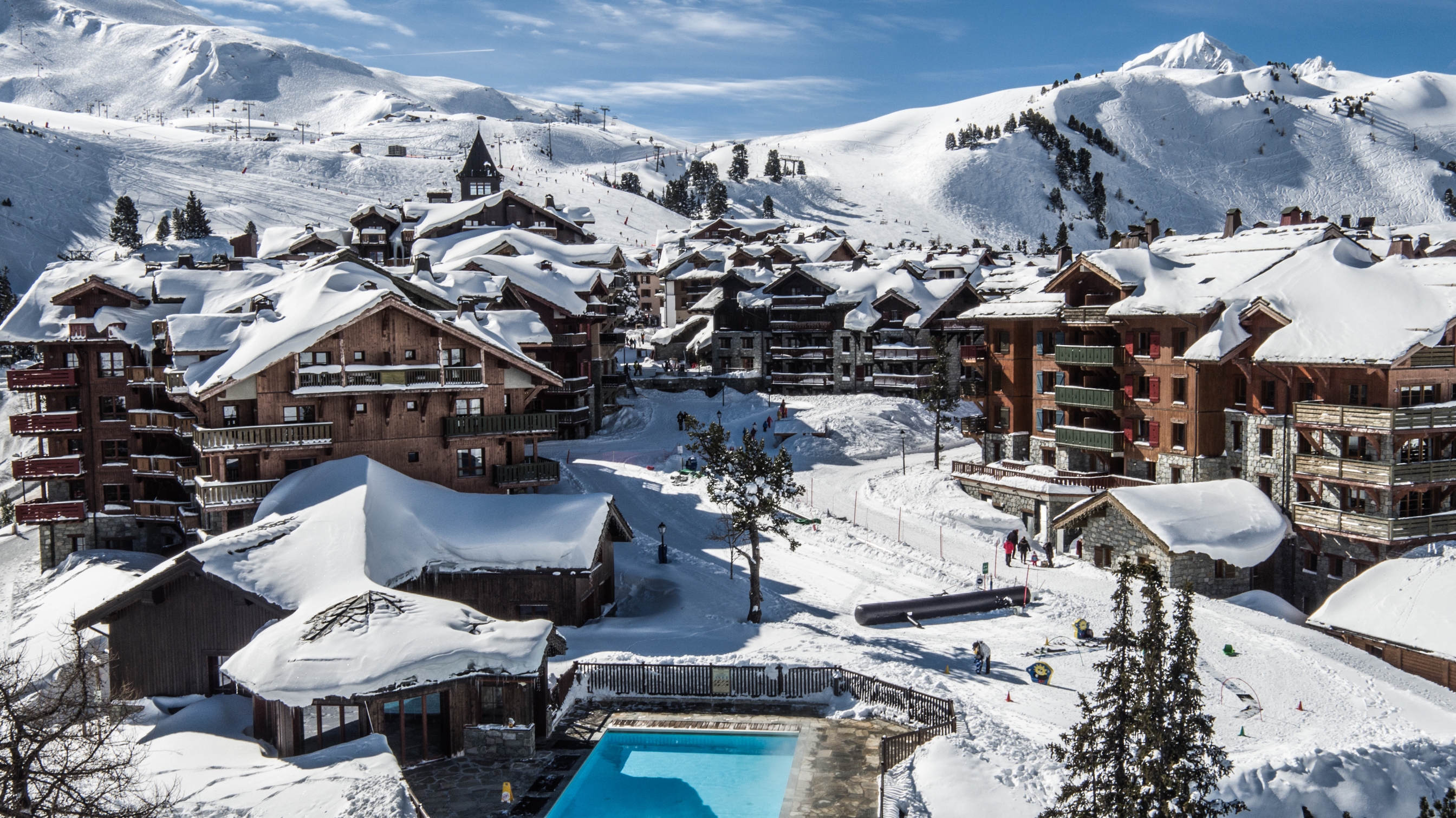 Les Arcs 1950 copyright Fred Marchadier
We head back to France for the next entry in our list to Les Arcs which became part of the vast Paradiski area in 2003 with the opening of the Vanoise Express providing access to over 400km of slopes, and a vertical drop of over 2,000m. Les Arcs has a direct funicular train (taking just seven minutes) to the Bourg St Maurice TGV station which offers a number of long-distance rail service including the recently restarted direct Eurostar to London St Pancras throughout the ski season (until early April). The fastest service we could find from Paris to Bourg takes just over 5 hours requiring no changes.
8. St Anton (am Arlberg), Austria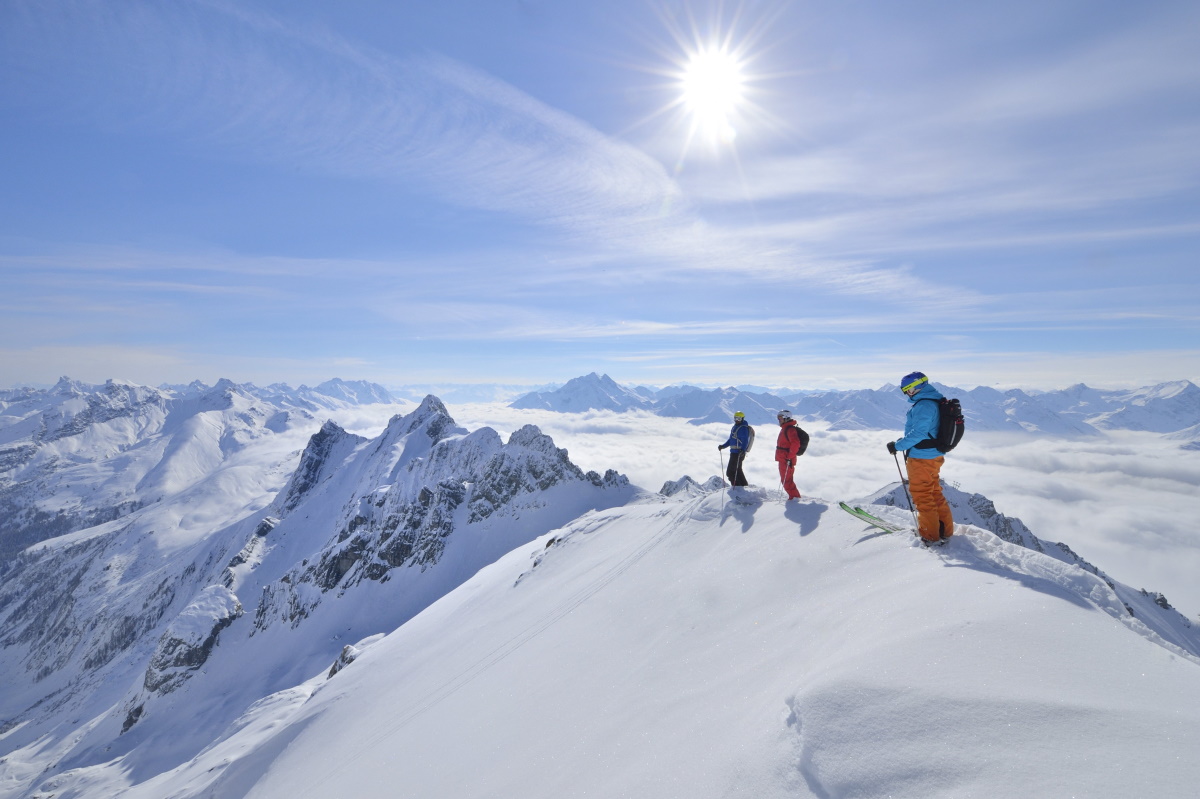 TVB St. Anton am Arlberg/Josef Mallaun
Austria's St Anton (am Arlberg) is next in our list with an extensive 300km of slopes which saw it become the largest connected ski area in the country in 2016, thanks to the opening of a new lift. It also has excellent train connections with its own station on the main line between Zurich and Innsbruck. The fastest service from Paris takes just under 7hrs 40 minutes with changes at Basel and Zurich.
9. Zermatt, Switzerland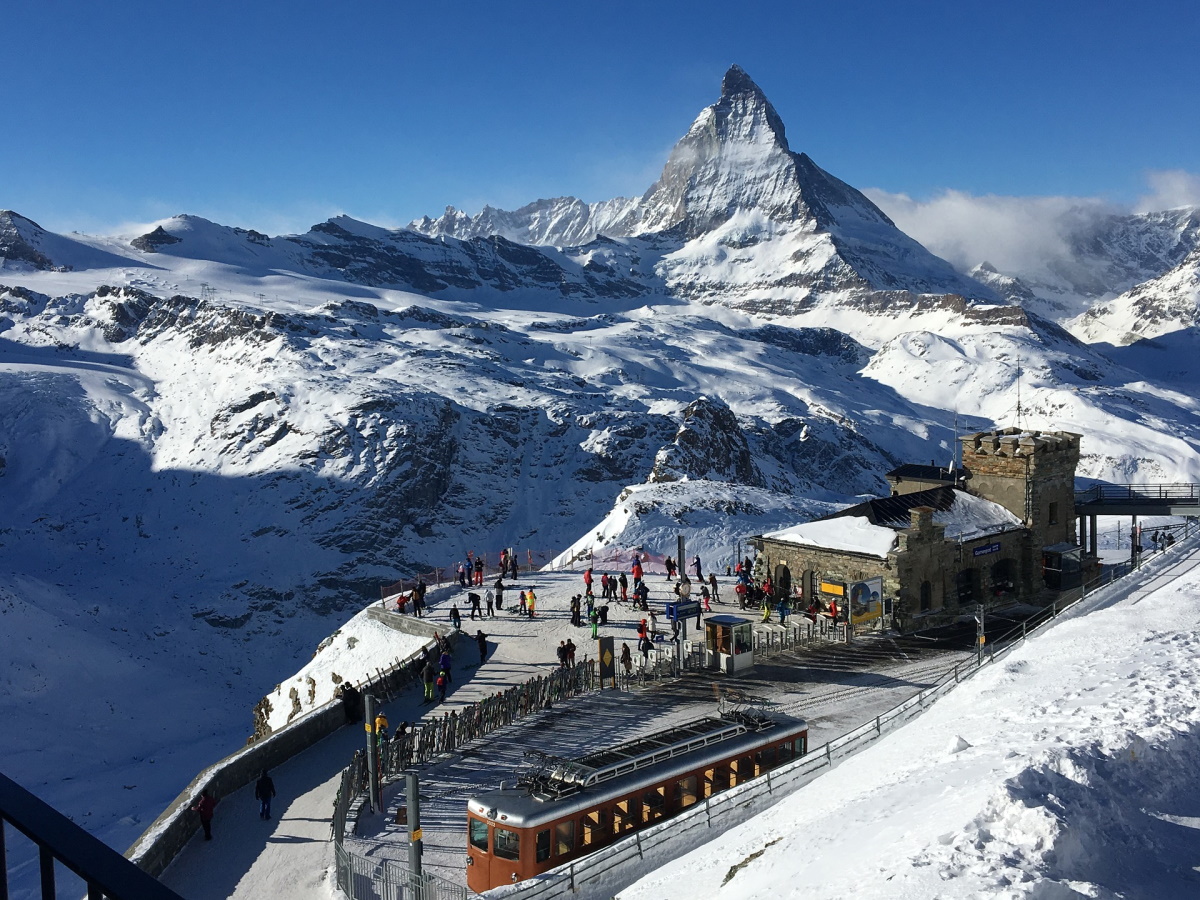 Mountain Railway, Zermatt / Pixabay
Perhaps most impressive of all the resorts here is the classic Swiss mountain town of Zermatt nestling beneath the staggering beauty of the Matterhorn. Uniquely, Zermatt endeavours to keep at least some of its slopes open every day of the year, so there should be plenty of options in April. There are over 300km of slopes and the highest point is just below 3,900m making it the highest lift-served skiing in the Alps. The main Geneva to Brig line runs along the bottom of the valley, intersecting the Zermatt rack-and-pinion cog railway at Brig and Visp, which takes just over an hour to climb to the resort. Paris to Zermatt can be done in just under 7 hours.
10. Zugspitze, Germany
Germany's glacier resort, Zugspitze, usually stays open into early May and can be accessed entirely by train via a cog railway from the adjacent town of Garmische-Partenkirchen. Zugspitze is Germany's highest mountain (at just a little under 3,000m) with lift-served slopes between 2,000m and 2,720m, and the option of a cable-car trip to the very top of the mountain. Garmische-Partenkirchen is a well-served junction station, with fastest trains from Paris taking just under 7 hours (usually changing at Mannheim or Stuttgart, and Munich)."
The above resorts are among some 200 included on our 'The Alps – Skiing by Train' map which we we think works really well on our new backpack. See the whole range on Redbubble.