Flying to the Austrian Alps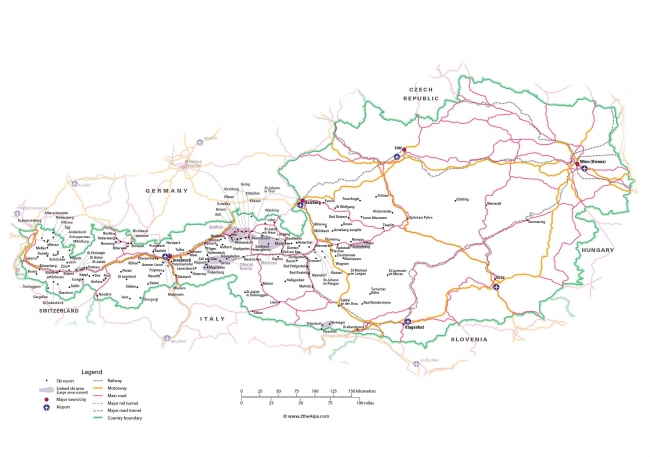 With an average flying time of only two hours from the UK, flying to Austria is the quickest and probably the easiest option for those wishing to reach Austria's ski resorts.
The Austrian Alps are served by three main entry airports – Innsbruck, Salzburg and Vienna – as well as smaller Linz, all with direct flights from the UK. New routes this ski seasion include a FlyBe service from Manchester to Innsbruck and British Airways flight from London Heathrow to Innsbruck while Jet2.com also offers new flights from Newcastle and Leeds/Bradford to Vienna.
Alternatively, Munich and Friedrichshafen are both within short driving distance of the Austrian Alps, presenting great low-cost routes to your Austrian holiday. Friedrichshafen, in particular, is a good gateway to the west Austrian ski resorts of Vorarlberg such as Montafon, Arlberg and Lech. With direct flight from Stansted, Gatwick and Luton, Lubljana in Slovenia too is a good option for skiers heading for the south Austrian Alps.
Click on the airport name in the table below for information on onward travel.
Who flies where in the Austrian Alps
| Airport Code | Airport | Direct UK Flights |
| --- | --- | --- |
| GRZ | Graz Airport | No |
| INN | Innsbruck Airport | Bristol (EZY); London Gatwick (EZY, BA, OS); London Heathrow (BA); London Luton (EZY); Manchester (BE) |
| KLU | Klagenfurt Kärnten Airport | No |
| LNZ | Linz (Blue Danube) Airport | London Stansted (FR) |
| SZG | Salzburg (W A Mozart) Airport | Bristol (EZY); East Midlands (LS); Edinburgh (LS); Glasgow (BA); Leeds/Bradford (LS); Liverpool (EZY); London Gatwick (EZY, BA); London Heathrow (BA); London Luton (EZY); London Stansted (FR); Manchester (LS) |
| VIE | Vienna Airport | Bristol (EZY); Edinburgh (EZY, LS); Leeds/Bradford (LS); London Gatwick (EZY, BA); London Heathrow (BA, OS); London Luton (EZY); London Stansted (EW); Manchester (EZY, OS); Newcastle (LS) |
EZY EasyJet BA British Airways LS Jet2.com FR Ryanair BE FlyBe OS Austrian Airlines EW Eurowings
Information correct Winter 2016/17