Customised Maps & Map Gifts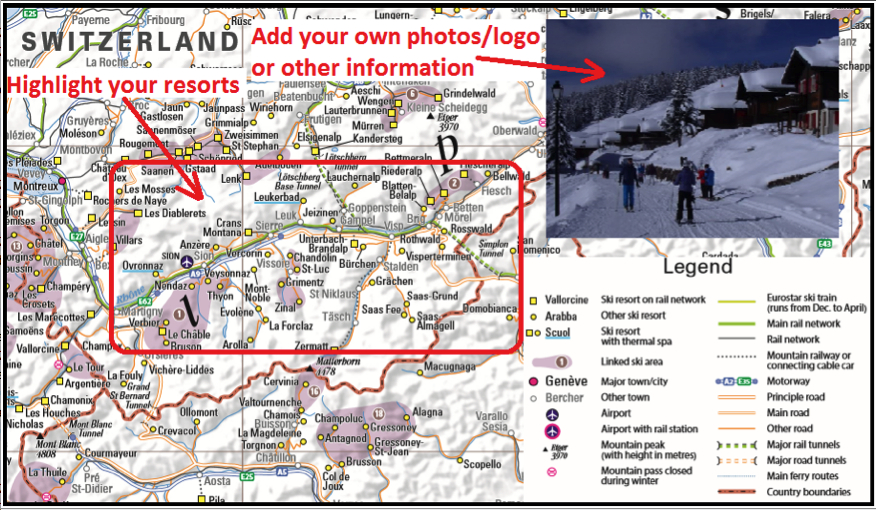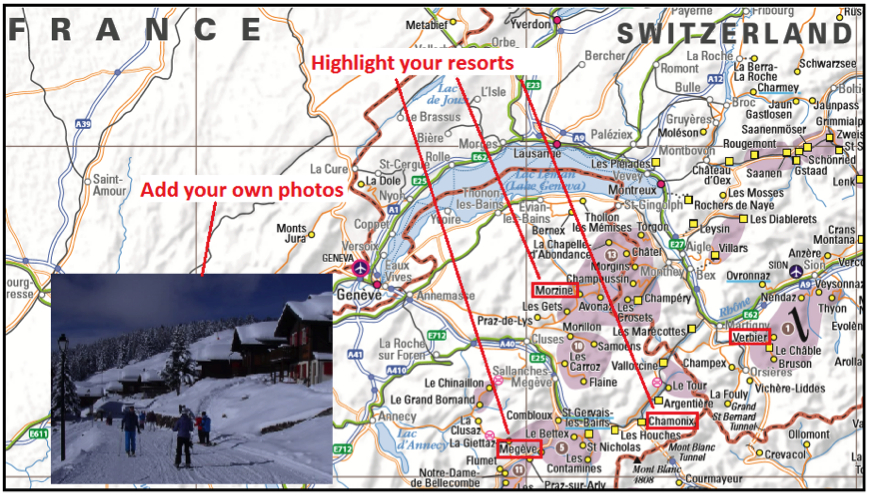 All of our maps can be personalised with a variety of elements to make a unique gift, wall map, business tool, educational map or simply a wonderful memory of your travels. Such elements include, for example, highlighting or adding place names or features on the map, adding logos or images, adding a bespoke cover or the addition of customised text. We can also print at various sizes and on to numerous media types to make your map unique and personal to you or to your business.
Some customised examples based on two of our maps are shown below, but the options are limitless and we can produce any number of permutations to your requirements.
---
The Alps - Skiing by Train
Much like the iconic topological Tube Map, this schematic style map sets out to simplify rail journeys to and through the Alps. Featuring over 215 ski resorts, it covers the seven Alpine countries from France in the west to Slovenia in the east and shows mountain railways, main lines and the Eurostar route into the French Alps. More..
The map is available in a variety of formats including:
High resolution prints on quality satin photo paper supplied either as flat paper sheets or encapsulated in crystal clear plastic. A2, A3 & A4 sizes available as standard or we can print at any bespoke size including giant wall map sizes
Personalised printed editions incorporating your own photographs/text - ideal for gifts or souvenirs
Bespoke versions for businesses for office walls/ promotions
Folded map versions for giveaways with company details on the reverse
Licences for use in magazines or on websites
Published: January 2018
To enquire about corporate versions, licences and other bespoke versions please contact us. Other sizes/formats are also available. Please contact us to discuss your requirements.
---
Ski Resort Map of the Alps
Our detailed Ski Resort Map of the Alps can form the basis for a range of personalised options including corporate gifts, wall maps, folded map giveaways or simply a unique memento of a ski holiday for yourself or a fellow ski enthusiast.
Bespoke Example 1
Scale: 1: 1,430,000
Format: Folded, double-sided map
Sheet size: 1089 x 525mm
Customisation: Covers left blank for client's use. Reverse side includes full index, with space for client details or can be left completely blank for client's use.
---
Bespoke Example 2
Scale: 1: 1,430,000
Format: Folded single-sided map
Sheet size: 1089 x 631.50mm
Customisation: As per Example 1 but on larger sheet with index on the front and blank on the reverse to allow for more economical single-sided printing
---
Bespoke Example 3
Scale: 1: 1,430,000
Format: Wall Map
Sheet size: 994.50 x 631.50mm
Customisation: A wall map version of 2 above with left hand panels removed. Can be printed on quality matt paper or as a durable encapsulated version with the paper bonded between two sheets of tough, flexible, crystal clear plastic, perfect for framing without the need for glass and allowing you, should you wish, to write on/wipe off with dry or wet pens
---
Bespoke Example 4
Scale: 1: 1,430,000
Format: Wall Map
Sheet size: 994.50 x 525mm
Customisation: As 3 above but with the index removed.