Flying to the French Alps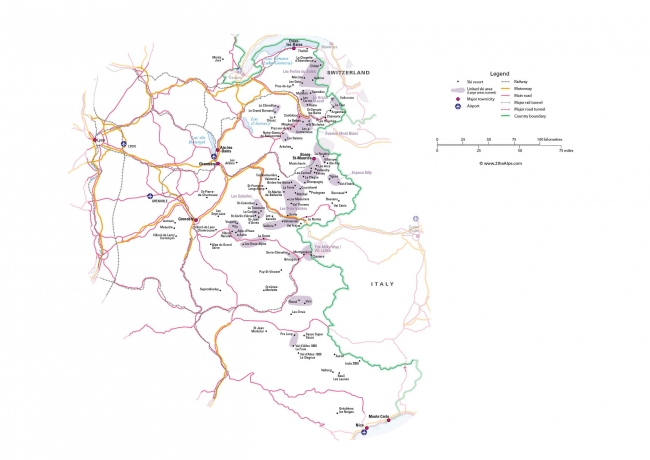 France is the most popular skiing destination for UK travellers and there's a good choice of direct UK flights to the main entry hubs in the French Alps, from where you can travel onward to your destination by rental car or a by a growing number of ski shuttle coach transfers. Geneva in Switzerland, with its excellent onward rail connections, as well as rental car and coach options, also serves as an excellent entry hub for the French Alps. Alternatively, the resorts of Briancon/Serre Chevalier and Montgenèvre, nestled close to the Italian border, can be accessed via Turin airport either by the good N94 road across the mountains or by train and bus from Turin.
Click on the airport name in the table below for information on onward travel.
Who flies where in the French Alps
| Airport Code | Airport | Direct UK Flights |
| --- | --- | --- |
| BSL MLH EAP | Basel Mulhouse Freiberg Airport | Bristol (EZY); Edinburgh (EZY); London City (SX); London Gatwick (EZY); London Heathrow (BA); London Luton (EZY); London Stansted (FR); Manchester (EZY) |
| CMF | Chambéry Savoie Airport | Birmingham (BE); Cardiff (BE); Doncaster/Sheffeld (BE); Exeter (BE); London City (BA); London Stansted (BA); Manchester (BE); Norwich (BE); Southampton (BE) |
| GNB | Grenoble Isère Airport | Birmingham (EZY); Bristol (EZY); East Midlands (LS); Edinburgh (EZY); Glasgow (LS); Leeds/Bradford (LS); Liverpool (EZY); London Gatwick EZY); London Luton (EZY); London Stansted (EZY, FR); Manchester (LS); Newcastle (LS) |
| LYS | Lyon Saint-Exupéry Airport | Belfast (EZY, BE); Birmingham (BE); Bristol (EZY); Edinburgh (EZY); London Gatwick (EZY, BA); London Heathrow (BA); London Luton (EZY); London Southend (EZY); Manchester (EZY, LS, BE); Southampton (BE) |
| NCE | Nice Côte d'Azur Airport | |
| SBX | Strasbourg Airport | no (although French airline flyKiss operate a direct flight with stop off to London Luton meaning you don't have to disembark or re-check baggage en route) |
EZY EasyJet BA British Airways LS Jet2.com FR Ryanair BE FlyBe SX Skywork Airlines
Information correct Winter 2016/17