Flying to the Italian Alps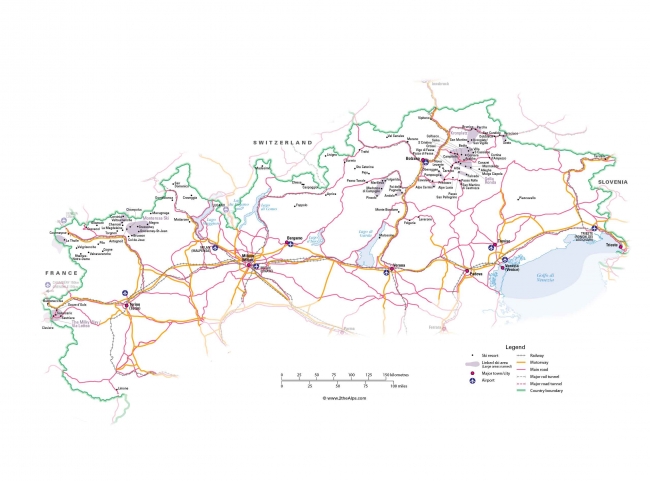 Italy's alpine resorts are scattered right across the north of the country and fall into four distinct groups, so where you fly to depends largely on which resort you're heading for.
The Aosta Valley resorts, north of Turin are probably the most accessible, with good connections from Turin and Milan airports. They can also be reached from Geneva via the Mont Blanc Tunnel or from elsewhere in Switzerland via the Grand St Bernard Tunnel.
Further south, Turin makes an excellent entry point for the Piedmont mountains in the west. The resorts here are also easily reached from Geneva in Switzerland or Chambéry and Grenoble in France via the Fréjus Tunnel or the N94 over the mountain pass from Briançon.
Travelling east, the scattered resorts of Lombardy are among Italy's remotest. Bergamo airport provides the quickest access, with the closest resorts just an hour's drive away and a popular choice with passengers just looking for a few days on the snow, although many are considerably further. Alternatively, they can be reached by way of a fairly lengthy drive from Milan or Verona airports.
East again, the Dolomites can easily be reached from Austria's Innsbruck Airport over the Brenner Pass, while Verona, Treviso and Venice also make good entry points.
Click on the airport name in the table below for information on onward travel.
Who flies where in the Italian Alps
EZY EasyJet BA British Airways LS Jet2.com FR Ryanair BE FlyBe AZ Alitalia
Information correct Winter 2016/17