Train to the Alps - cheaper than you think?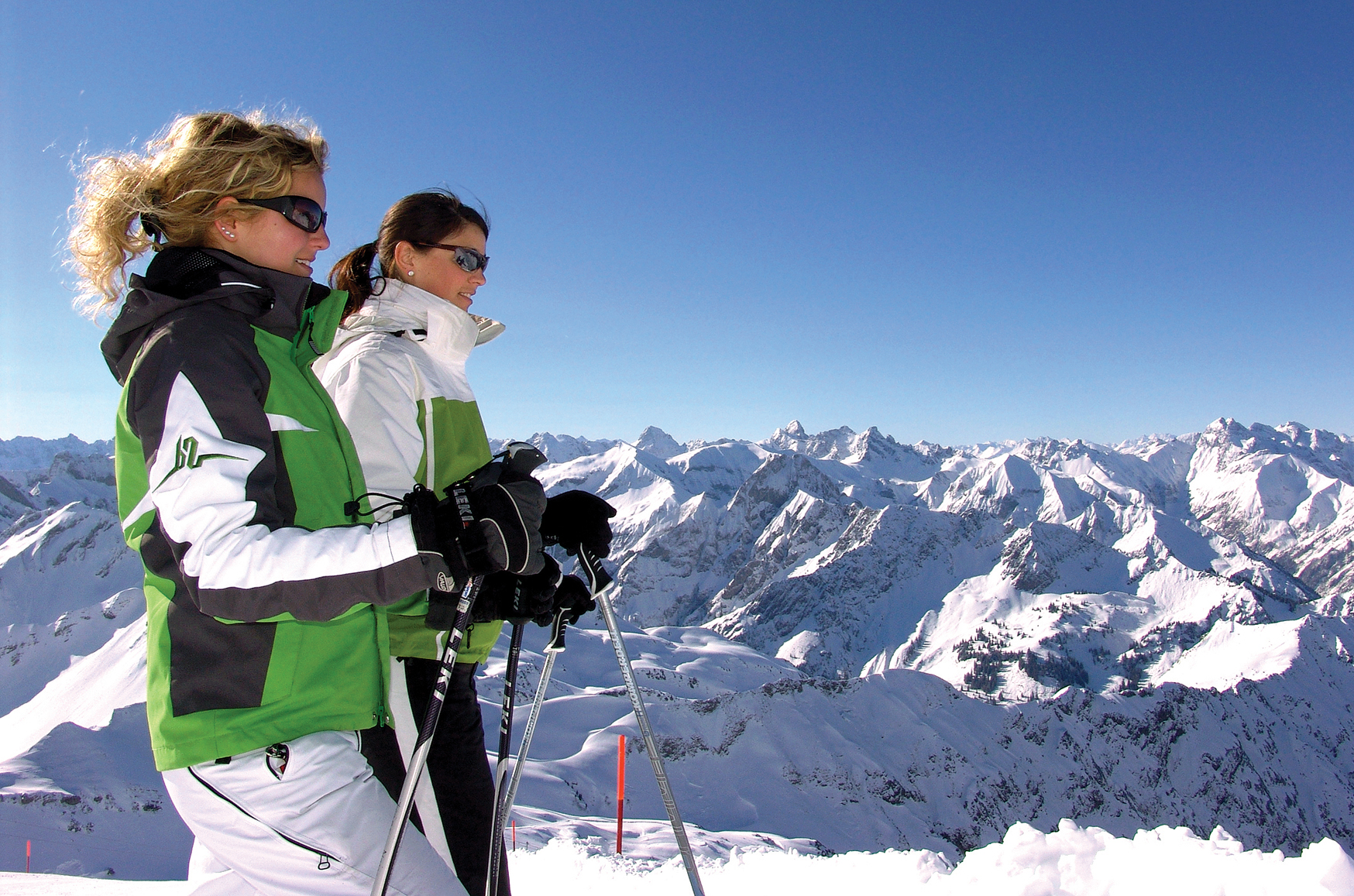 Oberstdorf, Germany - just £90 from the UK by train (image ©Oberstdorf Tourismus)
One of the criticisms frequently levelled at train travel to the Alps is that it a) takes considerably longer and b) is much more expensive than flying. We tackled the former issue in a previous blog highlighting a number of resorts that you can reach by train in under 10 hours, making the door-to-door journey times comparable to flying. We would now like to address the issue of cost!
Others, like Ski Flight Free, have written more comprehensively about the breakdown of costs between rail and air travel to the Alps. So we thought it would be interesting to put the train to the test and look up some fares for single rail trips leaving in a couple of weeks' time, ie at relatively short notice.
We reckon any single rail fare for around £100 is competitive with the low-cost airlines, particularly when you add in travel costs to and from the airport and supplements for ski equipment carriage – both of which either don't apply or cost much less with train travel.
The findings
The following fares were researched on 14 January 2020 and are mainly for travel on Saturday 1 February (we've also added some examples from a couple of days later). All are single fares. Please note that 2theAlps is not a travel agent – for booking rail fares, try sites such as Trainline and Rail Europe.
Sample single train fares to the Alps from London St Pancras (as researched on 14 January)
Destination station

Cost on Saturday 1 February 2020

Cost on following Monday or Tuesday

Approximate quickest journey time from London

Local resorts

Briancon

£98 (£161 with couchette)

£88 (with couchette)

15h45 (overnight)

Serre Chevalier, Montgenevre

Grenoble

£107

£87

6h35

Alpe D'Huez, Les Deux Alpes

Gstaad

-

£134

10h20

Gstaad

Oberstdorf

£90

-

11h05

Oberstdorf

Garmisch Partenkirchen

£99

-

12h20

Garmisch

Innsbruck

-

£120

12h25

Nordkette,

St Anton
1. Briancon, FRANCE
Set in the south western corner of the French Alps, Briancon bookends the extensive Serre Chevalier ski area and is also just a few miles west of the Italian border and the vast Milky Way ski area. The daytime fare on Saturday 1 February is currently a whacking £285. However, Briancon is on the last surviving French sleeper train service to the Alps (other routes were axed just a few seasons ago) and if you take this option, the fare from London drops to an impressive £98.00 (including Eurostar to Paris and onward sleeper train). This is for a reclining chair on the sleeper – book a couchette and you need to add £62 bringing it up to £161. You arrive at 08:23 on Sunday morning in plenty of time for a full day on the slopes. However, if you can travel a few days later on the Tuesday night, the basic fare drops to £70 and the couchette upgrade is just £18 giving a total of £88. When you consider that this effectively includes a night's accommodation and enables you to spend the next day skiing, it's hard to imagine a more cost-efficient way of reaching the Alps from the UK. Sheets, a bottle of water and toiletries are also included in the couchette upgrade.
2. Grenoble, FRANCE
Heading further north, Grenoble is a particularly accessible Alpine rail destination from the UK with journey times from London of under 7 hours, although you'll need to add on extra time for your onward transfer to the resort as there is no skiing in Grenoble itself. Despite it being only just over two weeks away, and in the peak ski season, we have found a single fare for £107 on Saturday 1 February leaving London at a civilised 11:04 and arriving in Grenoble at 18:39 (via Lille and Lyon). There are a large number of resorts within an hour or two's transfer time of Grenoble including Alpe D'Huez and Les Deux Alpes. Travelling on the Monday sees the fare drop to £87.
3. Gstaad, SWITZERLAND
We struggled to find cheap weekend fares to the Swiss Alps at this short notice, but a few resorts can be reached more affordably on Monday 3 Feb such as Gstaad for £134, Engelberg for £140 and Le Chable (serving the Verbier ski area) for £129.
4. Oberstdorf & Garmisch Partenkirchen, GERMANY
Train fares to the German Alps are surprisingly affordable with a bargain £90 ticket available for a Saturday departure (February 1) to Oberstdorf (via Brussels, Cologne and Ulm). Oberstdorf isn't particularly well known to the UK winter-sports market but includes Germany's longest downhill run (7.5km) and a long thin ski area with an impressive vertical drop of nearly 1400m. The better-known German resort of Garmisch Partenkirchen can also be reached on February 1 for a very reasonable £99 in just under 12 hours.
5. Innsbruck, AUSTRIA
Prices jump considerably for the extra distance to the Austrian resorts but if you can wait until Monday, there is a fare to Innsbruck of £120 (taking 12 hour 25 minutes).
So, with just two weeks' notice and in peak season, it is indeed possible to reach the Alps by train from the UK for just under £100. The best bargains from our limited research are looking like the sleeper train to Briancon and the daytime trains to Germany, and we're keen to try both this season! We used trainline (www.thetrainline.com) for our research but please note that they also show coach fares when requesting journey times. We haven't included those but they tend to work out quite a bit cheaper and, not surprisingly, take quite a bit longer! And once again to reiterate, 2theAlps do not arrange travel or holidays – mapping is our specialism with our latest, 'The Alps – Skiing by Train' available here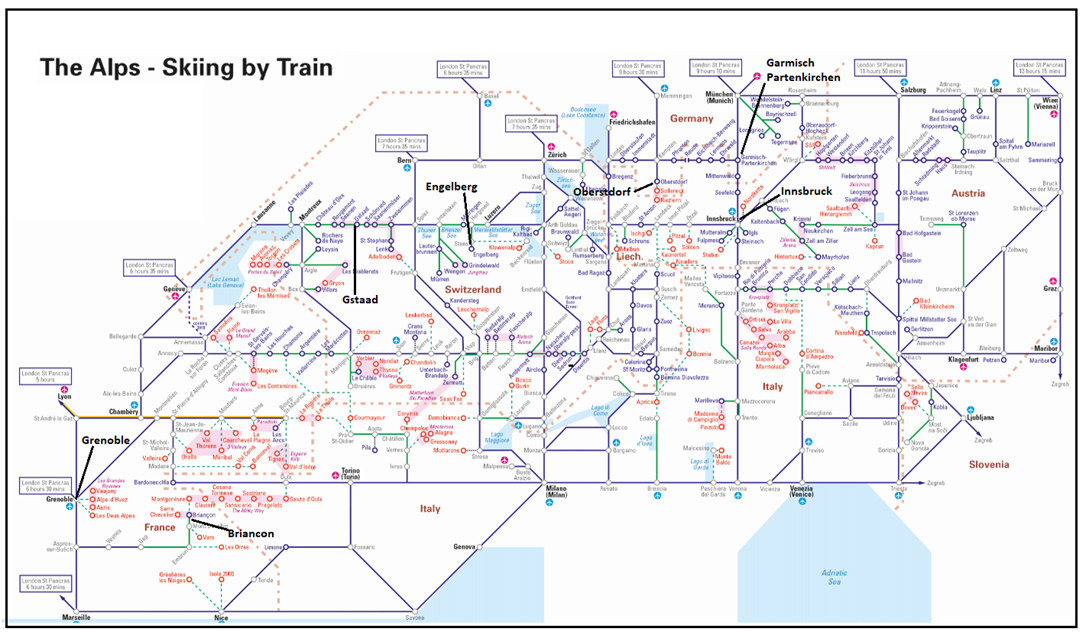 Map image ©2theAlps