Driving to the Alps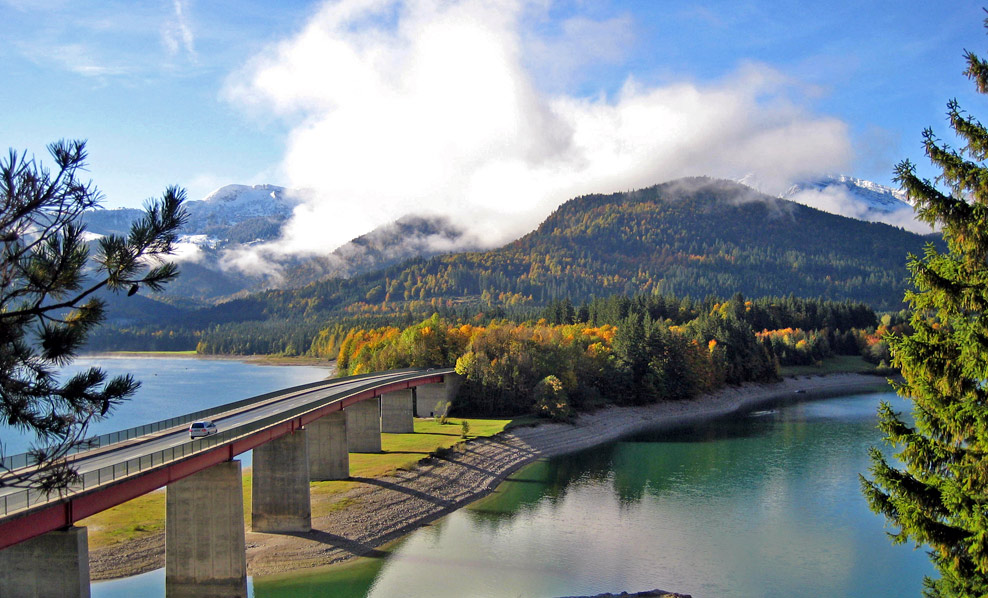 Driving in the Bavarian Alps
Unless you're considering embarking on a Clarkson-style all-nighter, travelling by road to the Alps is unlikely to get you to your destination the quickest. However, the ease of being able to throw everything you need into your car, including bulky clothing, boots, skis and poles, and the sheer joy of getting from door to door completely under your own steam, means it's probably the simplest and cheapest way to get to the Alps, especially if you're travelling as a family or a group. Not only will the travel costs be considerably cheaper, with no hidden extras, you can also take all your own equipment with you, meaning you don't have to spend money or time hiring it when you're there. What's more, with a bit of forward planning, you can take the bulk of your food for the week if you're self-catering and/or plan a supermarket stop en-route, again saving money and giving you more time on the slopes.
Most people travelling from the south of England will choose to enter France via the Eurotunnel at Folkestone. Alternatively you can choose from one of the south coast ferry crossings which depart from Ramsgate, Dover, Newhaven, Portsmouth, Bournemouth, Weymouth or Plymouth. Those living further north may find it quicker to hop on one of the ferry crossings across the North Sea from Harwich, Hull, Newcastle or Edinburgh.
Driving regulations, speed limits, rules on children travelling in front seats and the equipment you must carry with you vary from country to country. However there are a few general rules that apply wherever you travel in Europe:
Headlamps must be adjusted so as not to dazzle oncoming traffic (converters are widely available).
GB Stickers are compulsory within the EU unless your UK registration plates display the GB Euro-symbol (Europlate). Outside the EU you must display a GB sticker.
Radar detectors are forbidden. In addition, many countries now require that the 'fixed speed camera' setting on GPS navigation systems must be deactivated.
Take a look at our driving pages for more information on some of the key things to be aware of before you set out: