The Alps by Rail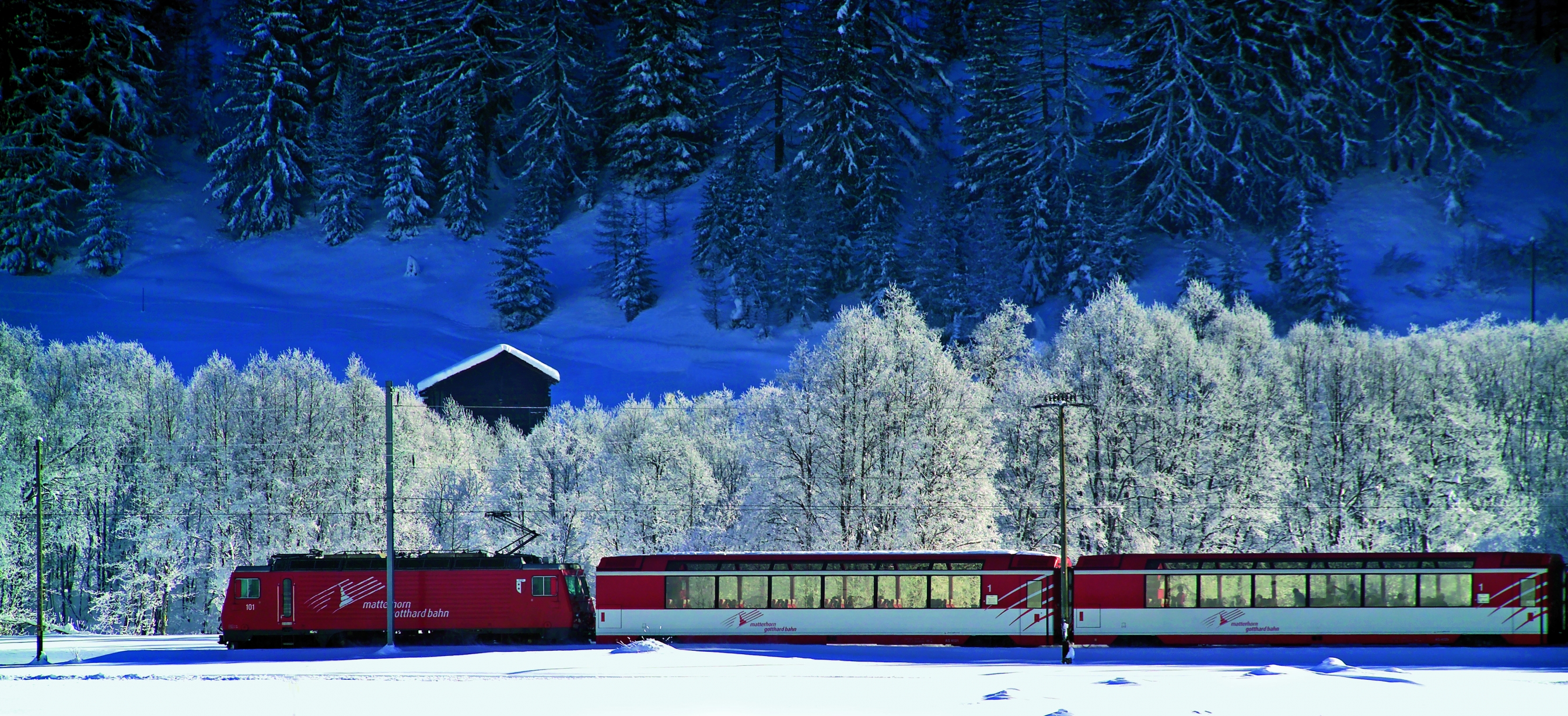 Matterhorn Gotthard Bahn©SwissTravelSystem.ch
We're big enthusiasts of travelling to the mountains by train here at 2theAlps. It's generally the safest, most civilised and most enjoyable way to the resort, and can sometimes be surprisingly quick and affordable too. Although it tends to be slower than flying (but not by as much as you'd think), the time spent travelling is much more useable with long periods of uninterrupted time unlike journeys by air where you rarely get more than an hour before the next queue.
Brownie points are up for grabs for minimising your carbon footprint, with rail journeys producing around just 10% of the carbon emissions for flying. From the UK there are options to travel all the way to the Alps by train, or to do your Alpine
transfer leg from the airport
. There are close to 150 resorts with their own railway station, and many others have frequent, connecting bus services.
Trainline
is the leading application in Europe for train and bus travel, selling tickets for 270 train and bus companies across 45 countries to travellers around the world.
Travelling from the UK by train
When the Channel Tunnel opened back in 1994, rail travel to the continent became a much more competitive and practical option. Previously you would spend the best part of 3 hours making the crossing by boat including time checking in, boarding, disembarking etc. Now the crossing via the tunnel takes just 20 minutes. There are various options for making the trip by train.
FRANCE
Since the 1990s there has been a direct train from London to the French Alps (Bourg St Maurice) running twice a week. One daytime service on a Saturday, and one overnight (Friday). This route serves some of the largest connected ski areas in the Alps, most notably the Three Valleys, Tignes/Val D'isere and La Plagne/Les Arcs. It is hugely convenient being on one train for the whole journey and takes about 8 hours in total. The overnight train leaves on Friday nights and returns on Saturday nights giving you 8 days on the slopes. There are no couchettes or reclining seats, however, unlike the overnight trains from Paris.

A second option is to take the Eurostar to Paris, and then overnight train to the Alps. Although the options have been cut back in recent years, there are still trains operating on most days to Bourg St Maurice, St Gervais (with connections to Chamonix) and Briançon (connected to Serre Chevalier ski area, and close to Montgenèvre/the Milky Way).
SWITZERLAND
Geneva is the quickest and easiest Alpine city to reach by train from the UK, with journey times as short as 6½ hours. Precise options change every year – in the past there have been services to Geneva from Lille connecting with the Eurostar from St Pancras, and there are always fast trains from Paris. Once you arrive at Geneva station, a huge array of Swiss (and a smaller number of French) resorts are an easy train journey away usually requiring no more than one change. Resorts include Zermatt, Chamonix (via Martigny),
Gstaad
, Champex (for Verbier), Crans Montana and
Champéry
(in the Portes du Soleil). A new rail connection is being built linking Geneva to St Gervais which will also provide access to the Megève area and Le Grand Bornand (Flaines).
Zurich is similarly well served by both fast trains from London via Paris, and onward trains into the Alps. Shortest journey times are just under 7½ hours from London (about an hour longer than Geneva) but there are more resorts closer by with some smaller ones (eg Sattel Hochstuckli and Flumserberg) just an hour's train ride away. Other better known resorts are easily reached from Zurich within 2 to 3 hours, usually with only one change of train needed, including
Andermatt
,
Davos
, Engelberg,
Klosters
and Meringen.
AUSTRIA
Austria lies to the east of Switzerland and is therefore a good bit further by train from the UK. The main Alpine cities of Innsbruck and Salzburg can be reached in about 12 hours so the journey is still doable in a day. Many of Austria's best known resorts have their own railway stations including Mayrhofen,
St Anton
,
Zell am See
and Kitzbuhel, and are within an hour or two's train ride of Innsbruck or Salzburg.
ITALY
Italy covers a broad swathe of the Alps with several hundred miles between its westernmost and easternmost resorts. The western resorts are most easily reached by train from the UK with those on, or close to, the Chambéry-Turin line offering surprisingly short rail journeys thanks to fast and often direct TGV services from Paris. The fastest trains reach
Bardonecchia
in under 10 hours from London making it one of the quickest rail routes to any resort in the Alps. This line also passes through Oulx (for Sauze D'Oulx and the Milky Way), and along the Maurienne valley with resorts including Valloire, Valmeinier and Orelle (a lesser known resort at the southern end of the enormous 3 Valleys ski area).
Other parts of Italy have less competitive journey times by train but many resorts do have stations, especially in the northern Dolomites - some eg Percha even have ski lifts and ski hire integrated into the station buildings. Milan and Turin are about 12 hours from London by train with good onward rail connections to the Alps. Among our favourite Alpine travel experiences here at 2theAlps are the rail journeys north from Milan along the shores of the beautiful Italian lakes (eg Lakes Como and Maggiore) with connections into Swiss resorts such as
St Moritz
,
Andermatt
and the Aletsch glacier. The Italian Dolomites can also be reached via Innsbruck in around 2 hours.
Onward travel to the resort from the Alpine airport by train
The default means of travel for the 2theAlps team is usually a flight to an alpine airport followed by
onward travel
by train. It's a difficult combination to beat in terms of speed, cost, ease and enjoyment of journey. We're particularly keen on the airports which have integrated railway stations rather than having to rely on a connecting bus service. Such airports (highlighted on the Ski Resort Map of the Alps) include Geneva, Zurich and Milan Malpensa which all have frequent
flights from UK airports
. If you're travelling light and know your way around the airport, you can be on a train in get as little as 20 minutes from landing, although it's best to allow an hour especially if you have to make an infrequent connection.