Maps of the Alps for Independent Travellers
From Lyon to Lubljana and Milan to Munich, the European alpine region is home to a wide variety of resorts. Popular both with summer visitors and winter sports enthusiasts they range from classic names to lesser-known jewels which attract few visitors beyond the local region. Our useful maps pinpoint a whopping 640 of them and show just how easy it is for independent travellers to get there, whether by rail, air or road. All our maps are also available as wall maps and can additionally be printed at any size and onto a variety of media and customised with text or photographs to make a unique gift or simply a wonderful memory of your travels.
---
At 2theAlps we understand how rewarding
independent travel can be.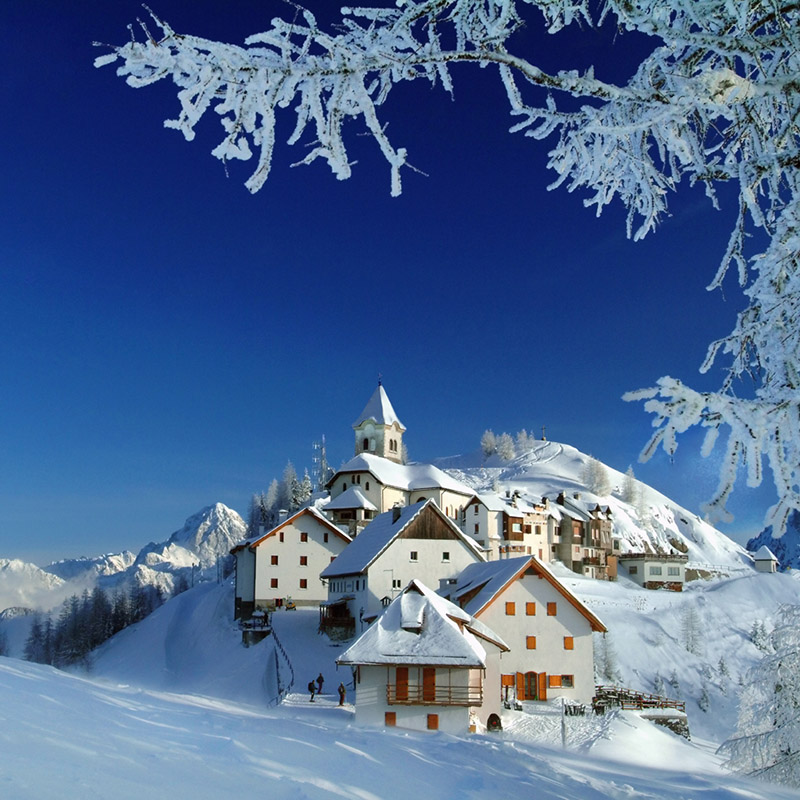 Monte Lussari, Italy
Image: Agenzia Turismo Friuli Venezia Giulia
Getting around in your own style and at your own pace. Where the journey there is all part of the fun. With our maps pinpointing the locations of 640 ski resorts across Austria, France, Germany, Italy, Liechtenstein, Slovenia and Switzerland and showing mainline rail links, mountain railways, ferries across the Alpine lakes, winter road closures, airports and linked ski areas, we set out to help you plan your independent alpine holiday.
Our little-known resorts will also appeal to the more adventurous mountain sports enthusiast. These include the beautiful, yet frequently overlooked slopes just a short, spectacular mountain railway trip above Lake Geneva, or a tram ride away from the medieval charm of Innsbruck's city centre. The ski areas may be smaller with fewer lifts but the scenery is just as breathtaking, and the slopes invariably much quieter, with cheaper lift passes, ski hire and accommodation than in the better known, glitzier resorts. If you want to experience winter sports without the usual Brits-abroad, package-holiday vibe, these destinations are for you.
NEW Ski Resort Map of the Alps - Out Now
"A brilliant new ski resort map of the Alps has been launched from @2thealps - great for planning adventures :)"
@WheretoSki&S
MARCH 2017
"We already wonder how we managed without it"
FALL-LINE MARCH 2017
"Not only a must-have on Alpine road trips, but probably as wall art"
Fall-line MARCH 2017
"It costs less than a tenner, and it's made in good old Blighty"
FALL-LINE MARCH 2017
"Helps skiers identify ski resort locations and their relationships to each other instantly"
IN THE SNOW MARCH 2017
"Big ski regions like the Portes du Soleil are shown as shaded sections, giving an idea of the scale of these areas and of how close the borders of some are to the next giant ski region"
IN THE SNOW MARCH 2017
NEWS... NEWS... NEWS...
---
The Alps are one of the largest and highest mountain ranges in the world.
Some 680 miles long and up to 140 miles wide and covering an area of some 80,000 sq miles, they take in eight countries in their path.
Although a distinctive region in its own right, each country has its own feel. Check out our country pages for more information.